By Alina Dorion, NCSML marketing and communications intern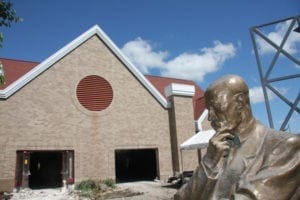 Ten years after the epic surge of the Cedar River in 2008, the NCSML is commemorating the anniversary by displaying parts of its 2009 exhibition, Rising Above: The Story of a People and a Flood.
Currently on display in the museum's lower-level elevator lobby and continuing to the first level in the Anderson Gallery, the exhibition will be up through the rest of the summer.
NCSML curator Stefanie Kohn said that the exhibition serves as a good reminder of the events from 10 years ago.
"Depending on where you lived in Cedar Rapids, you may or may not have been affected a lot by the flood. The exhibition reminds people that the flood was a big deal and a tragic event for a lot of the Czech neighborhoods and the near-river neighborhoods. It's also helpful for out-of-town visitors; they often don't know about the flood because it was ten years ago," Kohn said.
The exhibition also covers Cedar Rapids' recovery, 10 years after the flood, and how the city has changed since then.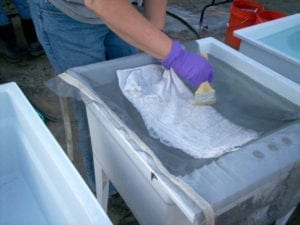 "We opened this building in 2012, that's four years after the flood, and it just takes a while. Some other places came back sooner, some later. So, we have pictures of places like the Cedar Rapids library, McGrath amphitheater, and NewBo to show how things have changed.  In large part, it's a success story," Kohn said.
However, Kohn said that the exhibition also addresses that full recovery is not complete just yet.
"The exhibition shows that there are still things going on. Levees and flood walls are still being built, and there are some properties that haven't been addressed yet. It's still a work in progress, and I think we try to get that across in the exhibition," Kohn said.
The Rising Above exhibition originally ran from 2009 to 2016 in the Kosek Building in Czech Village. Since reopening in 2012, the NCSML has welcomed over 110,000 visitors to the museum, mounted more than 50 exhibitions, and has hosted 15,000-plus students and teachers.