(Cedar Rapids, Iowa – Oct. 15, 2020) – Two years ago, angel wings began popping up on the side of buildings in Czech Village.
"Angels in the Village" is the brainchild of Mary Kay Novak McGrath, who owns several properties in the village. The idea was to add some fun and color to the area, while giving people another reason to visit.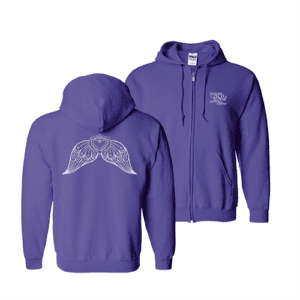 McGrath's idea has inspired others, including Master Folk Artist Marj Nejdl. Her 2020 Christmas ornament, designed and produced exclusively for the National Czech & Slovak Museum & Library (NCSML), features an angel. Now, Eduskate Board Shop has partnered with the NCSML to bring McGrath's angel wings from building to backs with hooded sweatshirts.
Eduskate Owner Lindsey Podzimek designed the angel wings, which will be printed on the back of purple zip-up hooded sweatshirts, to be sold exclusively at the award-winning NCSML Museum Store.
"When Mary Kay Novak McGrath had the idea to paint angel wings on the walls of buildings in the Czech Village, she was thinking of the community, and how this could increase visitors and support to our community," Sarah Jane Wick, NCSML's Director of the Museum Store, said. "Every project or product inspired by her original idea illustrates our commitment to our community."
The sweatshirts are available to pre-order now through October 31 for $39.95. They are available in sizes small through 3XL. To order, call the NCSML at (319) 362-8500 or shop online at store.ncsml.org. Hoodies will be available for delivery after November 14.