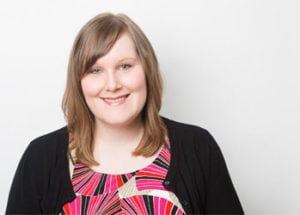 By Lindsay Erhardt-Hansen, Director of Visitor & Volunteer Services
April is National Volunteer Month, first instituted in 1991. Organizations like the NCSML would not exist without the time, talent and energy of volunteers of all ages. Learn what it is like to oversee the many NCSML volunteers and how their involvement enriches the lives of all they encounter.
When I think about how much our volunteers give of themselves, it is truly amazing! To think about the museum's volunteer-run origins over 45 years ago to a nearly 30-person staff that we are today, it really shows the perseverance, commitment and pride the founding volunteers had, and still do today.
Our volunteers serve weekly, monthly and occasionally; no matter how often they volunteer, they really do make a difference. In my six years working at the museum, I've learned there is nothing more special than witnessing the impact our volunteers have on people each day. Whether they are greeting visitors, selling tickets, helping in the store and in the galleries, they each bring personal experiences and share their history with our visitors. Through these distinct interactions with guests, memories are created that will be cherished forever.
Behind the scenes, our volunteers are taking calls, entering data, doing research and much more. All of this helps us operate so that we can share our mission each day.  I can't thank them enough for all that I have learned, but I would like to say "thank you" for showing me that through hard work and conviction, anything is possible – the museum is an example of this.
One of my favorite lines in the NCSML mission is that "our stories connect yesterday with today and tomorrow" and that is also the very definition of what our volunteers have done and do. Sincerely and with admiration, I thank you!
Fun facts:
NCSML Volunteer Data for 2018
Almost 9000 hours reported given in 2018
108 volunteers with service in 2018
Average value for volunteer time in Iowa: $22.73 (2017 data)
Volunteer time donate is equal to $204,570