Written and illustrated by NCSML intern Melina Testin
"Creativity is the power to reject the past, to change the status quo, and to seek new potential … creativity is the power to act." – Ai Weiwei
Ai Weiwei is a Chinese artist, architect, documentarian, writer, and musician, born in Beijing in 1957. Weiwei's father was a political enemy of the Chinese government, forcing Weiwei to grow up in labor camps and exile until Mao's death in 1976. Weiwei returned to Beijing to study animation at the Beijing Film Academy, and studied in the United States briefly before dropping out to pursue art full time.
Weiwei returned to China to care for his ailing father, but was soon following in his footsteps, making waves with the Chinese government.
Beijing 2003 is a 150-hour video documenting the entire Fourth Ring Road expressway. What began as a commentary on poor road conditions in Beijing has turned into a valuable historic resource as the road has faced extensive redesign in the years since.
In 2008, Weiwei was commissioned to design the Beijing National Stadium for the Summer Olympics: Bird's Nest. Weiwei irritated authorities by remaining critical of Olympic-fueled nationalism throughout the process.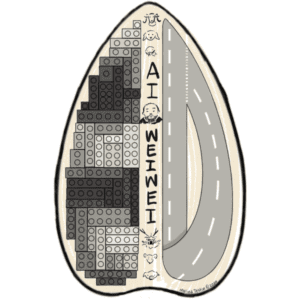 Weiwei presented ten metric tons of porcelain Sunflower Seeds in 2010. Both sunflower seeds and porcelain have been important industries in China for centuries. The individuality of each hand painted seed represents a Chinese person struggling to stand out in the midst of an oppressive government that sees its citizens as little more than a pile of sunflower seeds.
In 2011, Weiwei's criticism of the government finally caught up with him. First, the studio he had designed and built in Shanghai was demolished. Several months later, he was arrested at the Beijing Capital International Airport and detained for three months, sparking a global street art campaign to free Ai Weiwei.
The NCSML hosts two of Weiwei's works: Table with Two Legs and Self-Portrait in LEGO.
Ai Weiwei's signature style of 'excessivism' certifies that few other artists have created on the same scale. There is no project too big or theme too controversial for Weiwei.