Written and illustrated by NCSML intern Melina Testin
"… I am unable to see things the way other people do." – David Černý
David Černý is a Czech sculptor, born in Prague in 1967. In 1991, Černý gained notoriety using bubblegum pink paint to cover a tank which stood as memorial to the so-called liberation of Czechoslovakia by communist forces following WWII. Despite a brief arrest on accounts of hooliganism, word of Černý's artistic activism spread quickly. He advanced from the Academy of Arts, Architecture and Design in Prague to funded artist residencies in Switzerland and the U.S., most notably the Whitney Museum Independent Study Program in New York.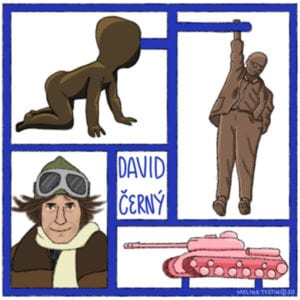 In 2000, Černý returned to Prague upon receiving the Jindřich Chalupecký Award for the most promising Czech artist under 35. Bolstered by this achievement, Černý fabricated more than a dozen 8.5' tall fiberglass Babies with barcode faces as an interpretation of 21st century children raised by technology. Ten Babies scaled Prague's Žižkov Television Tower, while others made their way to Kampa Island and Palm Springs.
Černý's most controversial work, Entropa, made its public debut in 2008 to celebrate the Czech Presidency of the European Union. Claiming this piece would be a collaborative effort between artists from all 27 member states, Černý sculpted a massive map without the input of others, sparking controversy with his depictions of each country as a stereotype of its people.
Other notable works by Černý include Metalmorphosis, a spinning, metallic, head-shaped fountain residing in North Carolina, and London Booster, a humanoid double decker bus which delighted onlookers with pushups at the 2012 London Olympics.
Černý has said he enjoys making public art because it "attacks" passersby with the unexpected, and shocking with strong commentary on contemporary issues. Černý's rebellious art career is active as ever in today's turbulent social and political climate.
The NCSML hosts two of Černý's pieces, Red Skull and Suitcase II, in the Artists as Activists exhibit. Stop in to learn how to be 'inspired by rage' like David Černý.