Written and illustrated by NCSML intern Melina Testin
"I believe [my art] will stimulate a desire of self-reflection from us, and an attitude to question the logic of consumption and development." – Hong Hao
Hong Hao is a Chinese photographer, born in Beijing in 1965. Hao studied at the Central Academy of Fine Arts in Beijing, and spent a decade printmaking before discovering a new passion for photography in 1999.
Hao enjoys working in series, taking time to master a medium before moving to the next. His first series, Selected Scriptures, is an encyclopedia of the world through Hao's eyes. Hao's goal was to challenge people to view the world in untraditional ways and discover new possibilities for peace. Hao created a bound book of 37 prints depicting humans, religion, war, and most notably, maps.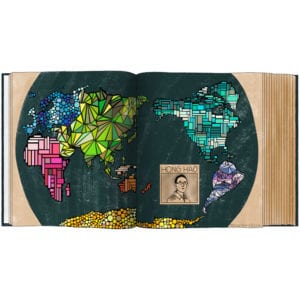 Each map shows countries organized in new and surprising ways. New Political World reshapes society and replaces the US with China. New World Survey Map resizes countries by status, expanding Europe and Japan while nearly erasing Africa and South America. Physical World inverts land and sea, pushing humanity to the fringe of the planet.
Hao's seminal project, part of which will be displayed at the NCSML, is a 12-year series entitled My Things. My Things is both a commentary on consumerism and a personal documentation of Hao's life. Hao scanned miscellaneous daily-used items and digitally positioned them into collages reminiscent of the pages of an I-Spy book. Hao describes each My Things collage as a micro universe that gives people a look into his life, and the world of contemporary China.
The NCSML will host My Things No. 1 and My Things No. 3 in the Artists as Activists exhibit. Stop in to put your 'I-Spy' skills to the test!