Written and illustrated by NCSML intern Melina Testin
"Everything we see has the potential to become inexplicably something else in terms of social justice and trans-pedagogy, wherein concepts dictate materials and process." – jc lenochan
jc lenochan is an American multi-disciplinary artist and teacher who lives and works in New York City. lenochan attended Rutgers University Mason Gross School of Art, and Skowhegan School of Painting and Sculpture. In 2011, he became the Newark Museum's Artist in Residence.
lenochan's art career transcends mediums and muses as it has developed into a mission to educate young people on topics of race, justice, psychology, and the art of listening through special workshops. Raising a Riot was a project with New Jersey high schoolers in which students prepared performance pieces to critique their education system. lenochan's work as a teacher-artist-activist was presented as part of Juvenile Justice Awareness Month in October 2015.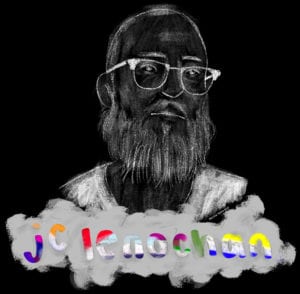 Beyond working with the community, lenochan has an extensive solo portfolio of mixed-media artworks, three of which are featured in Artists as Activists. Street Players in the Killing Zone of White Mischief symbolizes rewriting and transforming narratives. De-structuralism, an attempt of de-racing a society imagines a machine that could literally de-structure and de-race society. Definition of post whiteness per request describes a society without white privilege and racial discrimination.
lenochan questions everything from societal structure to traditional art techniques. Discarded books and concrete top the list of lenochan's signature materials used in his quest to de-race society through artwork. Repurposed books assign new meanings to old stories. Concrete's transformation from malleable mix to hard surface represents the development of innocent stereotypes into harmful prejudices. lenochan aims to change the way the world is viewed by challenging perspectives with his unorthodox artistic methods, mediums, and subjects.