Written and illustrated by NCSML intern Melina Testin.
 "…la mayor conexión que tiene mi obra con el arte contemporáneo es que a día de hoy la estoy creando" [the greatest connection that my work has to contemporary art is that I am creating it today]. – Juanma García
The final artist whose work appears in Artists as Activists is Cuban artist and sculptor Juanma García. García grew up in Caibarién and studied at the School of Visual Arts Leopoldo Romañach before moving to Miami to start both a family and art career in 2008.
García maintains a strong connection to Cuba; his home country is the subject of nearly every piece. Those with a keen eye to Cuban history and architecture are sure to recognize iconic buildings, monuments, and symbols within García's artwork.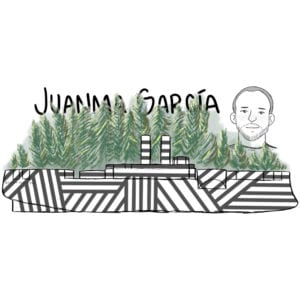 García's 2016 painting, Delayed Flight, bridges the gap between American and Cuban history. He depicts the 1925 Monument to the Victims of the USS Maine in Havana, a structure built in commemoration of the US Battleship that exploded in Havana Harbor in 1898 and jumpstarted the Spanish-American War. In 1961, the eagle with outstretched wings which crowned the monument was removed in attempt to lessen the imperialist feel of the monument. In Delayed Flight, García replaced the bronze eagle with a commercial airplane, already in flight, symbolizing the inevitability of American influence on Cuban society.
In 2017, García painted Seppuku in remembrance of Cuban independence from Spain. The left half of the canvas shows a reimagining of the Cuban flag with sword bisecting it, while nationalist leader José Martí points to the sword from the right half of the canvas. The word 'seppuku' is a reference to the samurai practice of ritual suicide to escape dishonor, a parallel to the bloody fight for Cuban independence to escape submission to Spanish conquerors.
García's 2018 painting, Dazzle Effect, is featured in the Artists as Activists exhibit at the NCSML. Beyond the beautiful imagery, Dazzle Effect is a commentary on the corrupt government of Cuba, and a warning against Cuban isolationism. Stop in to see how García uses history to weave hidden meanings into his paintings.