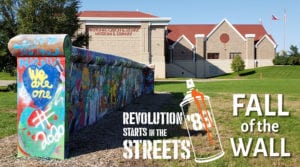 CEDAR RAPIDS, Iowa – Celebration of the 1989 events that brought an end to communism in Central Europe culminate on Saturday, November 9, 2019 at 3:30 pm, with the end of Revolution Starts in the Streets, a public art installation on the NCSML campus. To symbolically cap off a year of lectures, visiting artists, and workshops around freedom of speech the museum has invited its community to come together to tear down their replica Berlin Wall as an act of solidarity to commemorate the fall of communism and to forever endeavor to break down the barriers that separate us. This event is sponsored by Collins Aerospace and Dave Schmitt Construction.
The temporary art installation, a Berlin Wall replica, is the culmination of a year-long partnership of the NCSML, students from Metro STEAM Academy, Iowa BIG High School, Alburnett High School, and local businesses. These partners all worked together to build the 60 foot long wall in the heart of the historic Czech Village in Cedar Rapids, Iowa. To honor the role of street artists and the right to freedom of expression, this wall also served as a collaborative, public art space. The wall has evolved daily from protest murals to local street artist graffiti to the drawings of children from school trips to the museum. Community members through their participation in the participatory art installation were asked what barriers still exist in their society and how we might work to overcome them.
According to Sarah Henderson, K-12 Education Specialist at the NCSML, who envisioned this immersive educational partnership nearly two years ago, a common theme in revolutions throughout history is the presence of art as a form of peaceful protest. "The mission of the project was to promote a community conversation, started by students, about how what happened in 1989 connects to issues we find important today," explained Henderson.
In its nearly eight months of existence, the wall has hosted the art of countless local artists and even two internationally acclaimed artists, Ganzeer and Jan Kalab. Ganzeer was one of the leading young artists of the Egyptian Revolution in 2011 and during his visit to the Berlin Wall replica he spoke in a public lecture extensively about the role of art in effecting political change. Jan Kalab was a young boy under communism in Czechoslovakia and remembers his early days as an artist taking the train to Berlin to buy spray paint and returning to paint the streets of Prague under the name Cakes.
###
National Czech & Slovak Museum & Library
The National Czech & Slovak Museum & Library (NCSML) in Cedar Rapids, Iowa, is a museum that celebrates life:  Czech life, Slovak life and American life. The Museum seeks to inspire people from every background to connect to Czech and Slovak history and culture. Through extraordinary exhibitions and experiences, the Museum tells stories of freedom and identity, family and community, human rights and dignity connecting yesterday with today and tomorrow. The Museum honors those who immigrated to America and worked hard, contributing their skills and vision to the formation of our nation. For more information, visit www.ncsml.org or call (319) 362-8500.