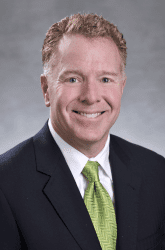 BrewNost! relies on sponsorships from local businesses to help throw one of the largest fundraising events in Cedar Rapids. For the second consecutive year, Scott Zach and Northwestern Mutual are partnering with the NCSML as the BrewNost! Presenting Sponsor to bring you a night full of fun and entertainment.
Scott recently took the time to answer some questions about BrewNost!, Northwestern Mutual, and the Cedar Rapids community. Read on to find out more!
This is second consecutive year that Northwestern Mutual Cedar Rapids has been the presenting sponsor of BrewNost!, why is this event important to you and your staff?
It is a fun event where we not only participate financially as the presenting sponsor, but we also volunteer our time to work at the event. Our organization has been very involved with many aspects of BrewNost!.
Additionally, the museum is a key cultural asset of our community which represents the uniqueness of our community. Northwestern Mutual's involvement in this celebration allows us to connect with our community in a special way.
What's your favorite part of BrewNost!?
The event itself. The experience of watching people enjoy themselves, while at the same time supporting the museum is very satisfying.
As a native of Cedar Rapids, what are your favorite places to go and things to do in the area?
At this time, my kids are very involved in sports and music.  So the majority of my time is spent in a gym, at a ball field, or in a performing arts center.  On the weekends, my family often bikes down to the New Bo District to enjoy the food and ambience.  I run, so I am an avid user of the trail system in Linn County.
Northwestern Mutual just moved its office from Hiawatha to downtown Cedar Rapids, what prompted that decision?  
Northwestern Mutual has been active in Cedar Rapids since the late 1800s, and it is the headquarters for my organization. We are very committed to this community. I felt that moving back downtown would allow us to contribute to the revitalization of the downtown district.
I have been pleased with the increased investment in the downtown area which has made it an appealing location to grow our business.
What are some of the other community events and charitable causes you or Northwestern Mutual care about?
We have around 150 contracted financial representatives who are involved in various community events and charitable causes. The events and causes are as varied as the interests of my individual representatives.
Both my organization and Northwestern Mutual are heavily involved in combatting childhood cancer.  Locally, we recently received Northwestern Mutual's Community Service Award for our commitment to The Dance Marathon at The University of Iowa, an excellent event that raises thousands to fight pediatric cancer.  On a national level, Northwestern Mutual is heavily involved with organizations called "Alex's Lemonade Stand" and the "Starlight Children's Foundation."   Alex's works to fund research to cure pediatric cancer, while Starlight works to help lift the spirits of children who are already fighting the disease.
What kinds of things are you hearing from people on money issues in Cedar Rapids?
The key word here would be concern.  Northwestern Mutual' s 2014 Planning and Progress Study shows that while people are feeling slightly better about their financial circumstances than they did the previous year, there continues to be a sense that the economy will experience future crises.  Additionally, in Cedar Rapids and across America, fewer and fewer people are able to count on employer-funded pensions to fund their retirement dreams.
Our study shows that two-thirds of Americans don't have a long-term financial plan in place, and 7 out of 10 don't have a financial advisor.  When you combine the uncertainty regarding the future with the fact that most don't engage with a qualified advisor, it is no wonder that people feel concerned.
Another issue which is prevalent regards the transfer of wealth from one generation to the next.  Over the next several decades, we expect to see a $30 trillion transfer of wealth.  Specifically, in our area we are seeing a lot of family-run businesses and farms transition from one generation to the next.  Business owners and farmers work hard to build their businesses so they can leave behind a legacy to other, so they want to create careful succession plans to help ensure the business' success, ensure that the owners have enough income from the business to retire – and to fairly delineate assets to their children.  This all requires thoughtful planning.
The final trend is that we find that people have the desire to engage with financial advisors whose practice is comprehensive in nature.  The public doesn't want anyone financial product – they want to have confidence in a comprehensive plan that brings all of those solutions together.  Given the complexity which is inherent in society today, it is important to clients that their advisor practices a disciplined planning approach.  This requires advisors to be part of a sophisticated company which can provide the resources to meet complex needs of the client.