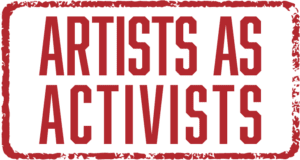 CEDAR RAPIDS, Iowa – Artists as Activists, an exhibit featuring works created by internationally known contemporary artists in response to political oppression, opens at the National Czech & Slovak Museum & Library on Saturday, March 28.
Artists are iconoclasts by nature. In order to create the new, to seek their own independent expression, artists are inadvertently positioned to oppose the reigning doctrines. Examples can be found in the former Czechoslovakia where David Černý brought attention to the overpowering domination of the Soviet Union over a large swath of Central and Eastern Europe, or in China where Ai Weiwei points out the disregard to the living conditions of his compatriots. Artists as Activists investigates the roles of artists in addressing these issues.
Curated by Charlotta Kotik, an independent curator based in Brooklyn who is a former Head of the Department of Modern and Contemporary Art at the Brooklyn Museum, this exhibition is a new addition to the international art scene, as many of the 15 pieces in Artists as Activists have never been shown together before.
Artists featured include Tania Bruguera, David Černý, Juanma Garcia, Hong Hao, Emily Jacir, jc lenochan, Malik Sajad and Ai Weiwei.
An opening for the exhibit will be held at 7 p.m. on Friday, March 27. In addition to an exclusive first look of the exhibition, Kotik will be present to discuss the artwork. Samuel Charles, owner and executive chef of Rodina, and Jessica LaFayette, owner of Rawlicious, will choose pieces from the exhibit to serve as inspiration for their own culinary interpretations. Four works of art will be featured in a food and drink pairing by each chef.
Tickets to the Artists as Activists opening are $15 per person for Museum members, $30 per person for non-members. Ticket costs include complimentary food and two drinks (one alcoholic and one non-alcoholic). A cash bar will be available. Purchase tickets for the opening at the Museum or online at http://weblink.donorperfect.com/artacttaste.
For more information, contact the National Czech & Slovak Museum & Library at 319-362-8500.