IOWA CITY, IA –Czech That Film, a nationally-touring festival of recent Czech cinema, will return to Iowa for the third year during the weekend of April 29, 2016. The Iowa festival is being organized by the National Czech & Slovak Museum & Library in partnership with FilmScene, which is the festival location for 2016.
The festival will open on Friday, April 29 at 6:30 pm with a screening of Home Care (2015), which was a major box office and critical success in the Czech Republic. In the film, dedicated home care nurse Vlasta lives for her husband Lada, her daughter, and her patients. One day things change, and Vlasta comes to realize that she might need some care, too.
The film will be followed by an in-person Q&A with director Slávek Horák at FilmScene and an optional cocktail reception at the Sheraton Iowa City Hotel. Details can be found at icfilmscene.org/series/czech-that-film/.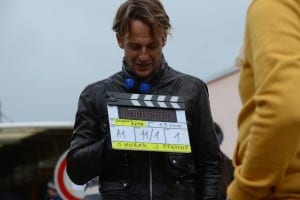 Films being screened on Saturday, April 30 and Sunday, May 1 include:
The Little Man/Malý pán (2015) – Shot on location in a Czech forest but starring puppets! Based on children's book "The Little Man's Great Journey," the film is an adventure primarily aimed at children but offering very funny moments for adults, too.
The Way Out/Cesta ven (2014) – The story of Žaneta and David, and their struggle to survive. Their unemployment and their difficulty in communicating with officials are both products of the frequent prejudices against the Roma. The piling-up of debts leads David to consider committing a crime in order to help his family.
Invention for Destruction (The Fabulous World of Jules Verne)/Vynález zkázy (1958, remastered) – An evil millionaire named Artigas plans to use a super-explosive device to conquer the world from his headquarters inside an enormous volcano!
50/Padesátka (2015) – What happens in the mountains, stays in the mountains. Set in the beautiful snowy Krkonoše Mountains, the film centers around the Three Kings 50 KM Cross-Country Ski Race and a varied cast of comical characters Instead of a desire to complete the race, a young man is after a totally different 50: seducing mature women.
Most films are not rated. A full schedule, ticket and festival pass information, and trailers can be found at icfilmscene.org/series/czech-that-film/.
2016 is the fifth year for this popular national festival, which travels to at least 18 North American cities each year. The national festival is organized by the Consulate General of the Czech Republic in Los Angeles, the Czechoslovak Society of Arts and Sciences in Los Angeles, the Consulate General of the Czech Republic in Chicago, the Embassy of the Czech Republic in Washington, D.C., the Embassy of the Czech Republic in Ottawa, and the Czech Center. In 2016, Czech That Film will reach San Francisco, Phoenix, Dallas, Washington, D.C., Austin, Denver, Little Rock, Los Angeles, Minneapolis, Houston, Iowa City, Salt Lake City, Columbus, Portland, New York, Chicago, Seattle, as well as Ottawa (Canada) and Puerto Rico! Visit CzechThatFilm.com for more information about the national festival.
Czech That Film in Iowa City is generously sponsored by Gary & Cathy Rozek.
FilmScene, Iowa City's nonprofit cinema, operates two screens on the ped mall in downtown Iowa City. Showcasing the best in contemporary independent, foreign, and documentary cinema, FilmScene is dedicated to enriching the cultural vitality of the Iowa City area through film that challenges, inspires, educates and entertains. More information at www.icfilmscene.org
Visit the rest of NCSML.org for more information about the museum, current exhibits, and upcoming programming.