CEDAR RAPIDS, Iowa (Jan. 15, 2020) – The National Czech & Slovak Museum & Library is pleased to announce our first Music @ the Museum Concert of 2020.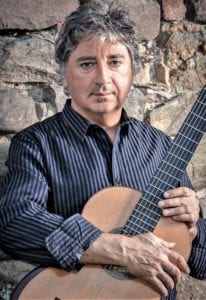 Internationally renowned Czech guitarist Vladislav Bláha will perform at the Museum from 7:00 to 8:00 p.m. on Thursday, January 23. Bláha's concert will commemorate the closing of our exhibition, Medieval to Metal: The Art and Evolution of the GUITAR.
The exhibit closes on January 26.
Bláha has performed in prestigious halls all over the world, including Carnegie Hall. He is a docent at the Janacek Academy of Music and the Brno Conservatoire, gives masterclasses at music colleges, and performs at festivals around the globe. He received his doctorate degree at the College of Music in Bratislava, Slovakia and docent degree at Janacek Academy of Music in Brno, Czech Republic. Bláha is president of Czech Classical Guitar Society.
The cost to attend Music @ the Museum is $8 per person for Museum members, $12 per person for non-members.