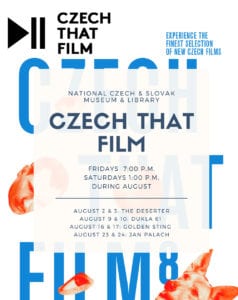 Currently, the largest Czech cultural event in the United States, Czech That Film is a film festival of the best recent Czech films held throughout the United States every year. The event was established to accommodate increased interest in Czech cinema and culture in the United States and is dedicated to raising the profiles of current Czech films at an international level. It provides an opportunity for American enthusiasts of global cinema to experience successful new Czech films.
The NCSML will be showing four different movies with two screenings the first four weekends in August. All of the films are in Czech with English subtitles. Guests can enjoy the films Friday evenings at 7:00 p.m. and Saturday afternoons at 1:00 p.m. The cost is $5 per film or $15 if you attend a screening of all four.
"We are thrilled to be hosting Czech That Film again this year," says Teresa Stenstrup, NCSML Director of Programs. "To be able to have it onsite in our very own Hemphill Theater makes it even more special. We've chosen a variety of films, showcasing the uniqueness of Czech cinema."
On Friday, August 2 and Saturday, August 3, guests can see Dezertér (Deserter), a dark comedic film about a Nazi Imprisonment survivor, Otto, who opens an upscale hair salon after the war. When the communists rise to power, the state takes over ownership of the salon and it soon becomes apparent that Otto must disappear or risk losing his life. Will he ever find home again?
On Friday, August 9 and Saturday, August 10, the NCSML will screen Dukla 61, which examines one of the country's greatest mining tragedies, a fire in a Dukla mineshaft in Haviřov on July 7, 1961, which killed 108 miners. Shot in a former mine in Rakovník, this family drama pays tribute to the mining profession.
On Friday, August 16 and Saturday, August 17, Zlatý podraz (Golden Sting), a touching fictional film, follows a young Czechoslovak basketball team through WWI to the communist coup in February 1948. Friendships are broken, several basketball players are persecuted, and coaches are arrested.
Finally, on Friday, August 23 and Saturday, August 24, the festival will end with Jan Palach, a biopic on the uncompromising young man, who made the ultimate sacrifice in the hope of rousing the nation from its growing lethargy and of protesting the Soviet invasion of Czechoslovakia in 1968. This film describes the last months of Palach's life, describing his path from an affectionate son, devoted friend and sensitive philosophy student to the "Torch number 1."
The annual four-month-long film festival was established in 2012 and keeps growing each year. This year it is in 22 different cities in the United States and Canada. Members of American Film Academy and Hollywood Foreign Press Association, and other significant representatives of the film business, are regularly among the growing audience. Prominent local community leaders, journalists, American businessmen, representatives of the diplomatic corps, members of Czech and Slovak communities, students, and university faculty members were also in attendance in previous years.
Full Film Screening Schedule:
| | |
| --- | --- |
| Date and Time | Film |
| Friday, August 2 at 7:00 p.m. | Dezertér (Deserter) |
| Saturday, August 3 at 1:00 p.m. | Dezertér (Deserter) |
| Friday, August 9 at 7:00 p.m. | Dukla 61 |
| Saturday, August 10 at 1:00 p.m. | Dukla 61 |
| Friday, August 16 at 7:00 p.m. | Zlatý podraz (Golden Sting) |
| Saturday, August 17 at 1:00 p.m. | Zlatý podraz (Golden Sting) |
| Friday, August 23 at 7:00 p.m. | Jan Palach |
| Saturday, August 24 at 1:00 p.m. | Jan Palach |
The National Czech & Slovak Museum & Library in Cedar Rapids, Iowa, is a Smithsonian Affiliate museum that celebrates life:  Czech life, Slovak life and American life. The Museum seeks to inspire people from every background to connect to Czech and Slovak history and culture. Through extraordinary exhibitions and experiences, the Museum tells stories of freedom and identity, family and community, human rights and dignity connecting yesterday with today and tomorrow. The Museum honors those who immigrated to America and worked hard, contributing their skills and vision to the formation of our nation.
Media contact: Teresa Stenstrup, Director of Programs | 319.362.8500