CEDAR RAPIDS, Iowa – A community conversation about art as a form of expression across cultures and revolutions continues at the National Czech & Slovak Museum & Library June 6-8 with a free lecture and hands-on art workshop with internationally known, multi-layered artist Ganzeer.
Ganzeer will be available for media interviews on Thursday, June 6 and Friday, June 7.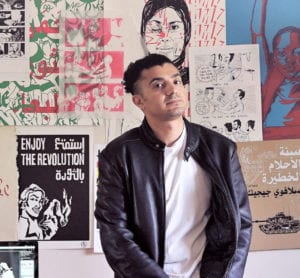 Active as a street artist during the 2011 Egyptian revolution, Ganzeer is known for his murals as well as his work across several other media.
Ganzeer's visit is part of NCSML's "Revolution Starts in the Streets" public art installation and programming, which is centered on a replica Berlin Wall constructed on the NCSML campus. In conjunction with the NCSML's "Revolution 1989" exhibit, this installation marks the 1989 revolutions that brought an end to communism in Europe – including the Velvet Revolution in Czechoslovakia.
"Like former Czechoslovakia President Vaclav Havel, Ganzeer and many other street artists faced the creative silencing of an oppressive government," says Teresa Stenstrup, NCSML Director of Programming. "We're connecting Czech and Slovak history to today's most urgent conversations about what it means to be free."
During his free lecture on June 6, Ganzeer will discuss his approach to creating art, including street art, during the heat of the Egyptian revolution, performative pieces, printmaking, painting, video-art, and more.
Ganzeer's two-day art workshop, June 7-8, will focus on design, drawing and painting. On the first day, Ganzeer will teach the various techniques and designing process for his type of street art. On the second day, participants will work with Ganzeer to implement their designs on the NCSML replica Berlin Wall.
Ganzeer operates seamlessly between art, design, and storytelling, creating what he has coined "Concept Pop," a brand of cultural insurgency that utilizes the aesthetics birthed by Pop Art and tackles the subject matter typically ascribed to Conceptual Art. His work has been featured in a wide variety of art galleries, impromptu spaces, alleyways and major museums around the world, including The Brooklyn Museum in New York, The Palace of the Arts in Cairo, Greek State Museum in Thessaloniki, the Victoria & Albert Museum in London, and the Edith Russ Haus in Oldenburg, Germany.
Schedule of Events:
Thursday, June 6, 7-9 p.m.: Lecture, "Concept Pop, Or Invisible Elephants and the Flies that Bug Them"
Cost: FREE
Location: National Czech & Slovak Museum & Library, WFLA/CBJ Heritage Hall
Friday, June 7, 5-8 p.m. and Saturday, June 8, 10 a.m.-1 p.m.: Art Workshop, Crash Course in Street Art and Protest Art
Cost: $50; pre-registration required
Location: National Czech & Slovak Museum & Library, Alliant Energy Classroom
"Revolution Starts in the Streets" is presented by Aegon Transamerica with contributing sponsorship by the Greater Cedar Rapids Community Foundation Program Fund.
The National Czech & Slovak Museum & Library in Cedar Rapids, Iowa, is a Smithsonian Affiliate museum that celebrates life:  Czech life, Slovak life and American life. The Museum seeks to inspire people from every background to connect to Czech and Slovak history and culture. Through extraordinary exhibitions and experiences, the Museum tells stories of freedom and identity, family and community, human rights and dignity connecting yesterday with today and tomorrow. The Museum honors those who immigrated to America and worked hard, contributing their skills and vision to the formation of our nation.
Media contact: Katie Shatzer, Director of Marketing & Communications | 319.362.8500