Filip Pogády in Concert (Kansas City)
September 11, 2015 @ 7:00 PM

-

8:30 PM

$10
Tickets are now offline, but are available at the door.
Join us in Kansas City, Missouri to experience the spectacular sounds of Slovak violinist Filip Pogády. He will be joined on piano by the equally talented Matthew Graybil. You won't want to miss this unforgettable concert! Special guests, courtesy of The Czech and Slovak Club of Kansas City, will be Ambassador Petr Gandalovič of the Czech Republic and Ambassador Peter Kmec of the Slovak Republic.
[button size='medium' border=" border_color=" shadow=" color=" background_color='#b22731′ font_size='1.5em' line_height=" font_style='normal' font_weight='500′ text='Buy Tickets' link='http://weblink.donorperfect.com/filipkansascity2015′ target='_blank']
Please note that we are unable to provide refunds for our ticketed events unless an event is cancelled/postponed by the NCSML. Thank you for your understanding.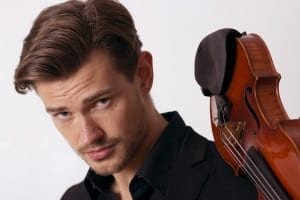 Filip Pogády is one of the most promising violinists of his generation and praised by the press for the beauty of his tone and his "lightning-like virtuosity". He has earned a reputation for performing a wide range of music across the genres, from the classical violin repertoire to Rock and Electronic.
Filip Pogády gave his solo debut with orchestra at the age of 11 at the Wiener Konzerthaus in Vienna after winning the 1st prize at the Tsusuki Violin Competition as the youngest contestant.
He participated three times at Austria's nationwide music competition "Prima la Musica" and won the 1st prize each time. He was also honored with special prizes by the Austrian String Society and the Raiffeisen Bank for extraordinary results at this competition.
Since then he has performed in concert venues such as the Rudolphinum Prague, Wiener Konzerthaus, Slovak Philharmonic Hall, Tel Aviv Opera House, Brucknerhaus Linz, Ed Sullivan Theater and the Apollo Theater.
Pogády gave his solo debut with the Slovak Philharmonic Orchestra at age 17 and has played with this orchestra regularly since. Collaborations with other orchestras include the Prague Chamber Orchestra, Bohemia Symphony, Konzertverein Linz and Vienna Conservatory Orchestra. TV appearances include the "Late Show" with David Letterman and a guest appearance on Louis CK's popular TV-show "LOUIE" where he acted as a subway violinist.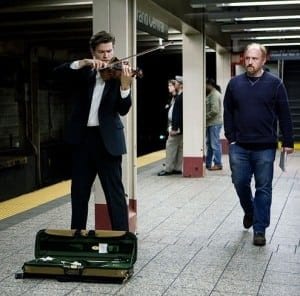 As a firm believer that music should be available to everyone, Filip Pogády joined Yehudi Menuhin's "Live Music NOW!" Foundation, which is dedicated to bring music to orphanages, nursing homes, prisons and hospitals. Pogády has played over 20 recitals for "Live Music NOW". Pogady decided to take this concept to the next level and has been performing the Sonatas and Partitas by J.S.Bach in the New York City subway throughout his studies at the Manhattan School of Music until present. "Most of these people have never heard this kind of music before, and yet it touches them on a basic human level, because this music is just SO good", he says.
Pogády's insatiable curiosity for music has led him beyond the borders of classical music. As a fan of Rock and Metal music, he decided to enjoy it not just as listener, but to play it on a 7 string electric violin himself. Filip's first electric performance took place at his Graduation Recital where he played his own "Metallica-Medley" as an encore. Besides playing music by other bands, Pogády also writes his own music.
After being invited by Pinchas Zukerman personally to study with him, Filip Pogády followed his advice and earned his Master's Degree in Violin Perfomance at the Manhattan School of Music, where he was awarded a full scholarship.
Born in Bratislava (Slovakia), Filip moved with his family to Austria as a child and began his violin studies at age 7. Just one year later he was admitted to the Bruckner Conservatory Pre-college in Linz. He gave his first recital at age 10.
Pogády plays a modern instrument by the Russian violin maker Boris Bratishchev. He resides in New York City.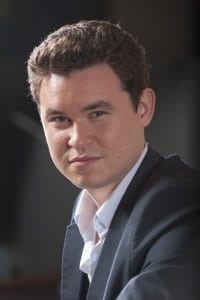 Praised by The New Yorker as an "exceptional young artist" and by The Southampton Press as "hypnotic and compelling," American pianist Matthew Graybil has performed as a recitalist, concerto soloist and chamber musician throughout the United States, Canada, France and Holland. He made his orchestral debut at age 14 with Tchaikovsky's Piano Concerto No. 1 and has subsequently performed with the Fort Worth Symphony and the National Chamber Players.
Highlights of Graybil's solo career include recitals in many of the world's music capitals, including New York, Paris, Chicago, Baltimore, Philadelphia, Toronto and Washington DC in venues such as Carnegie's Weill Recital Hall, Subcultre, Le Poisson Rouge, Verizon Hall at the Kimmel Center and Lincoln Center. In addition, Graybil is an avid chamber musician, with over 150 performances to his credit. As an exponent of music from the 20th and 21st century, he recently gave the New York premier of Walter Piston's Concerto for Two Pianos Soli, along with Igor Lovchinsky.
He has appeared on radio and television, including Vermont Public Radio, Connecticut Public Radio, WNYC's The Leonard Lopate Show, WQXR's Young Artist Showcase, WWFM's The Piano Matters hosted by David Dubal, CBS Chicago and PBS, where he was featured in the documentary Beyond the Practice Room.
He has been a prize-winner in national and international competitions including the MTNA/Yamaha National Piano Competition, the New York Piano Competition, the National Foundation for the Advancement of the Arts, the Juilliard Gina Bachauer Competition, the Nina Wideman International Piano Competition and the Missouri Southern International Piano Competition, in which he was the only American to reach the finals.
Mr. Graybil has performed in master classes for Leon Fleisher, Claude Frank, Pamela Frank, Robert Levin, Menaham Pressler, Susan Starr and Arie Vardi and has been invited to festivals including the Bowdoin International Music Festival, Pianofest in the Hamptons, the Ravinia Steans Institute, the Sarasota Music Festival and the American Academy in Fontainebleau, France.
Graybil began his piano studies at age 6 and presented his first recital the following year. He was a pupil of Harvey Wedeen for six years and in 2009, received a Bachelor of Music Degree from the Juilliard School under the tutelage of Jerome Lowenthal.  In 2011, he completed the Masters program at Juilliard where he continued to work with Mr. Lowenthal as well as Matti Raekallio.
Graybil's debut album, featuring works by Brahms and Schubert, was released in 2012 as part of the Victor Elmaleh Collection. In a review of the album, Fanfare Magazine wrote that "he becomes so at one with the [music] that the line between composer and performer vanishes. Matthew Graybil's playing marks him … as one of the most sensitive, poetic young pianists to debut on record in recent memory." A second disk of Chopin's Etudes, Op. 10 will be released shortly as part of The Chopin Project.
Born in Lancaster, Pennsylvania in 1987, Matthew Graybil resides in New York City.