Moravia: Gem of the Czech Republic
June 6, 2015 @ 11:00 AM

-

12:00 PM

Free
Join us on Saturday, June 6 for a special program about Moravia, given by author Robert J. Tomanek. Following his presentation, a book signing will take place outside the Museum Store.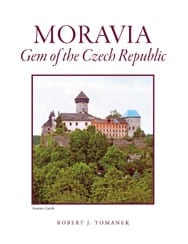 From Penfield Press:
Like many other European countries, the Czech Republic has a rich culture and history, which makes it a magnet for travelers to Eastern Europe. This book concentrates on the territory of Moravia, a part of the Czech Republic, often in the shadow of the capital city of Prague but which deserves attention and appreciation in its own right. After all, it is the place where the Great Moravian Empire was established and became the first major homeland of the Slavic people. The book brings a unique view of how this region is seen and understood from afar—the United States.
The author writes, "The absence of a published focus on Moravia, one of the two main regions of the Czech Republic, was for me the major driving force for this book. In looking at various sources, one quickly realizes that information about the Czech Republic is dominated by Bohemia. Finally, the history of Moravia is as rich as that of Bohemia, most notably by the fact that Great Moravia preceded Bohemia."
Moravia: Gem of the Czech Republic includes a history of Moravia, its regions, towns, and cities, some notable Moravians, the culture of the region, Moravian immigrants to North America, and the preservation of Moravia's treasures.
Author Robert J. Tomanek, PhD is Professor Emeritus Anatomy and Cell Biology Carver College of Medicine, University of Iowa
[button size='medium' border=" border_color=" shadow=" color=" background_color='#b22731′ font_size='1.5em' line_height=" font_style='normal' font_weight='500′ text='RSVP Now!' link='http://weblink.donorperfect.com/moraviatomanek' target='_blank']