CEDAR RAPIDS, Iowa (March 2, 2020) – The National Czech & Slovak Museum & Library is pleased to welcome Fareed Haque, Tony Monaco and Paul Wertico for our March Music @ the Museum Concert.
The trio will perform from 7 to 8 p.m. on Friday, March 13.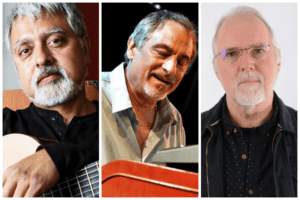 Haque is a modern guitar virtuoso. Steeped in classical and jazz traditions, his unique command of the guitar and different musical styles inspire his musical ventures with tradition and fearless innovation. He has spent much of his career defying expectations of what a jazz guitarist is supposed to do and how a jazz guitarist should sound. He continues to do this as part of a trio, collaborating with Monaco on a hard-hitting organ combo and Wertico on the drums.
Monaco's reserves of energy match Haque's. He studied with greats Hank Marr and Don Patterson but his greasy, rambunctious style owes serious debts to the great Jimmy Smith, who influenced his decision to switch from accordion to organ in his youth. Monaco later received personal mentoring from Smith.
Wertico has been hailed in the press as, "One of the most versatile and musical drummers in music today." A native of Chicago, Wertico joined the "Pat Metheny Group" in 1983, starting a long and fruitful collaboration that continued for 18 years, resulting in eight recordings, several gold records, and the winning of seven Grammy Awards.
The cost to attend Music @ the Museum is $8 per person for Museum members, $12 per person for non-members.