By Amanda Bartel, Administrative Assistant
How does it feel when the organization you work for becomes part of a special network affiliated with a national leader that you have long admired and interned for?  Amanda Bartel shares her views as a former Smithsonian Institution intern and current member of the NCSML team as to how it feels to be part of a Smithsonian Affiliate.
When I was 6 years old, we went to the Smithsonian on a family vacation. I remember seeing the Star Spangled Banner, Dorothy's ruby slippers, and planes. So many planes. My dad is an airline pilot, so we spent two days at the Air & Space Museum. I did not know at that point that these museums would be such an important part of my future.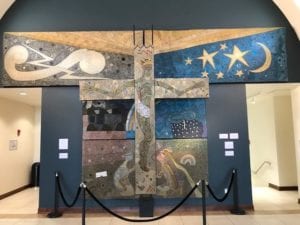 In high school, I decided that I wanted to work in museums. I loved history but I wasn't crazy about the idea of being a teacher in a classroom. Museums seemed like a natural next step. I had my first Smithsonian internship at the Smithsonian Anacostia Community Museum. The smallest of the Smithsonian museums, ACM provides world-class exhibits and programs to the historic but underserved neighborhood of Anacostia. While I was there, the main exhibit was Ubuhle Women: Beadwork and the Art of Independence. I was fascinated by the beadwork and stories that were being told. Little did I know that this was not the last time I would see the exhibit.
The next year I returned to D.C., this time as an intern at the Smithsonian National Portrait Gallery. There I completed research requests for people all over the country who were looking for answers about the portraits that were in their houses. I loved my time at the Smithsonian. All of the resources for research I could ever want were at my fingertips. I wore my ID badge with pride!
Throughout my time in college and graduate school I would continue to travel for internships and jobs. Sioux Falls, Colorado Springs, and Winona were all places that I called home for short periods of time, but it was time for me to come back to my home state of Iowa. When I arrived for my interview I was shocked when I came up the stairs and saw "African Crucifixion" from Ubuhle Women on display the Grand Hall. It truly felt like a homecoming.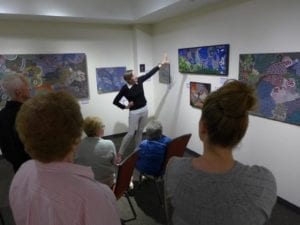 Having gotten to know the museum for the past eight months, it is no surprise to me that we are now a Smithsonian Affiliate. The Smithsonian's tagline is "Seriously Amazing," and I seriously think The NCSML is also seriously amazing. With this new affiliation, the museum will have more tools at our fingertips to bring even better programs and exhibits to our community. Please come in and see for yourself why we are so excited. We look forward to seeing you.