Uprka's portrayal of Moravian folk life is 'a story that should be told'
CEDAR RAPIDS, Iowa — In the first solo exhibition of the art work of Joža Uprka in the United States, the National Czech & Slovak Museum & Library (NCSML) will present 60 oil paintings, posters and mixed media on loan from the George T. Drost Collection. Joža Uprka (1861-1940) was a Czech painter and graphic designer whose work combined elements of Romanticism and Art Nouveau to document the folk life of Southern Moravia.
National Treasure: The Art of Joža Uprka from the George T. Drost Collection will be on display at the NCSML from Oct. 13, 2018, to March 24, 2019.
George T. Drost, who lives in Arlington Heights, Ill., and was born in Brno in the Czech Republic, has been collecting Uprka artwork since the 1990s and has amassed a significant collection in the United States. Drost also is chair of the NCSML Board of Trustees.
Examples of Uprka's artwork contained in the George T. Drost Collection can be viewed here:
https://photos.app.goo.gl/WhxxN8ZhT4Hggbcy5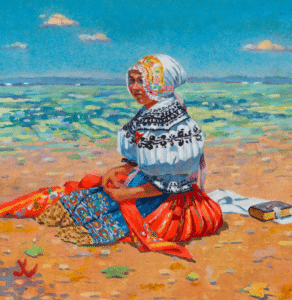 Uprka's works often portray the folk life of Southern Moravians during the late 19th and early 20th century. At a time of industrialization and urbanization, Uprka captured the simple nostalgia of the people of his birthplace. Born in Moravia, Drost starting collecting Uprka works in the 1990s, drawn by the tie to his birthplace and the style of Uprka's work.
"Uprka brought out the colors and joy of the people he depicted," Drost said. "His work tells you about what the regions of Moravia and Slovakia looked like at the turn of the last century. It tells a story about these people who had a joy and a rhythm to their lives in a world that was disappearing because of the changes in the economy."
Uprka is an important figure because he documented the traditions of his people, said NCSML curator Stefanie Kohn.
"He painted people in the Moravian countryside in their traditional folk dress who were often attending festivals or religious pilgrimages," Kohn said. "Uprka was a formally trained artist and studied at academies in the Czech lands and beyond. He had several teachers and influences in Prague, Munich, Paris and elsewhere. He was exposed to the rest of the world, but then he came home and painted these very personal works."
She added, "It's a rare opportunity for people here to see this Czech painter's works. To have so many of his works together on display is impactful."
Drost said that it is particularly important to him to share Uprka's artwork with people outside of the Czech Republic, who don't know Uprka's work as well.
"It brings a certain sense of pride that there's an artist who has skillsets that were as good as any other European artists. This is a story that should be told," he said.
Drost also said that the NCSML is an ideal place for gaining recognition of Uprka's work in the United States.
"As someone who was born in Moravia, it's very important to me and makes me very proud to have something that comes from my area of the world be exhibited in Cedar Rapids, Iowa. The NCSML is home territory for the artist. Hopefully, it will bring some well-deserved attention to this very creative and prolific man born in Moravia," Drost said.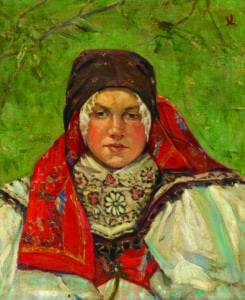 On the occasion of this exhibition, Drost is publishing a monograph, National Treasure: The Art of Joža Uprka from the George T. Drost Collection, which covers his entire collection of art by Uprka.
To learn more about the exhibition, visit https://ncsml.org/exhibits/uprka/.
This exhibition is supported by Beth and George T. Drost, and by Western Fraternal Life.