Flying Man II will be on display at the National Czech & Slovak Museum & Library for a limited time only, now through September 18, 2016. It hangs in Rozek Grand Hall and is free and open to the public.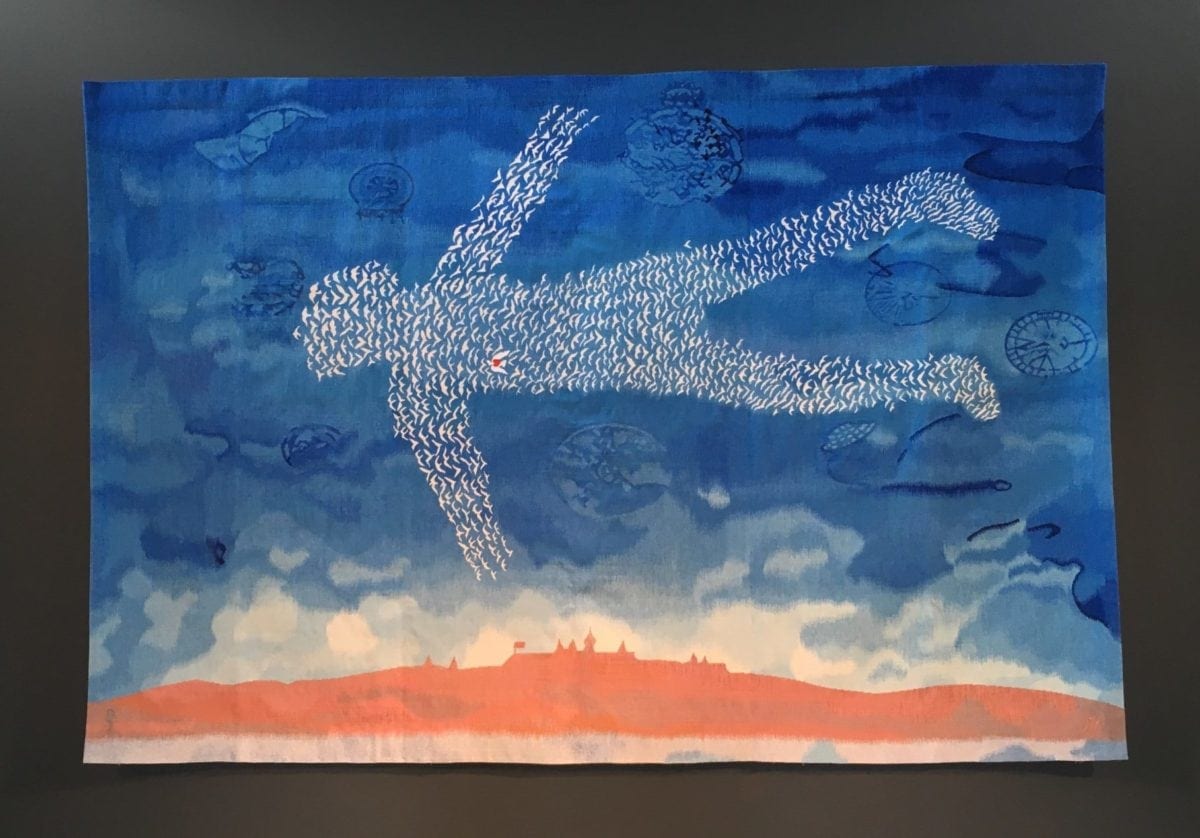 CEDAR RAPIDS, Iowa– Flying Man II is making its world premiere showing at the National Czech & Slovak Museum & Library, on display for a limited time before continuing to travel internationally. The tapestry is woven from an illustration by artist Peter Sís in honor of Václav Havel, President of Czechoslovakia and the first President of the Czech Republic.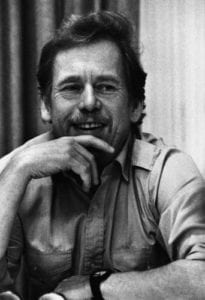 "This tapestry evokes the extraordinary contributions Václav Havel made to the Czech and Slovak people and to the larger world. His unique skills as a playwright, philosopher, dissident, and statesman when Czechoslovakia was recovering from Communist dominance transcended the usual political leaders and inspired the world," said Gail Naughton, NCSML president and CEO. "We are honored to have this meaningful and beautiful artwork here to share with everyone."
After leaving Cedar Rapids, Iowa, the tapestry will travel to New York for display at Bohemian National Hall. In December the tapestry will be on display at DOX Contemporary Arts Centre in Prague. After that, it will travel to Paris and then on to Strasbourg next March where it will be permanently installed in the main meeting room in the newly refurbished Václav Havel Building of the European Parliament.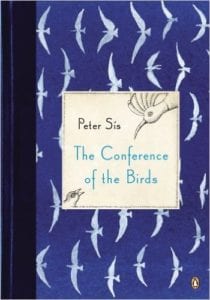 The tapestry is based on an illustration created by award winning author and illustrator, Peter Sís. Shortly after Václav Havel's death in 2011, Sís was approached by the Czech newspaper, Hospodářské Noviny, to do a memorial cover for the special issue on Havel. Sís recalls, "I was just working on a book about The Conference of the Birds so I put together 'Flying Man' — a flock of birds which is here today gone tomorrow."
In early 2012 a campaign was launched to rename Prague Airport as Václav Havel Airport. Bill Shipsey, founder of Art for Amnesty, Amnesty International's global artist project, proposed the commissioning of a gift for the airport. Shipsey made contact with a weaving atelier in Aubusson, France and arranged for the weaving of Peter Sís's illustration. The original tapestry measures 5 x 4.25 meters (over 16 x 13 feet) and was unveiled on December 10, 2012 in Václav Havel Airport.
When the European Parliament decided to rename one of their buildings in Strasbourg, France as the Václav Havel Building, Shipsey contacted the president of the European Parliament and offered to procure a bronze bust of Havel and a new version of the tapestry. Both will be unveiled and dedicated in March 2017.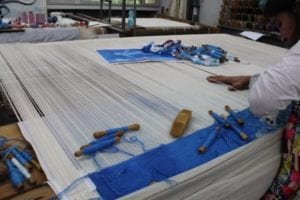 The new tapestry is landscape in format measuring 3 x 2 meters (9 ft 10 in x 6 feet 6 inches). It was woven in the famous Atelier Pinton in Felletin (Aubusson) France. This tapestry was funded by two Czech businessmen and arts patrons, Libor Winkler and Karel Janeček, who are the major shareholders in DOX Contemporary Arts Centre in
Prague.
The tapestry took three weavers two months to complete. Peter Sís is a member of the National Advisory Council of the National Czech & Slovak Museum & Library.