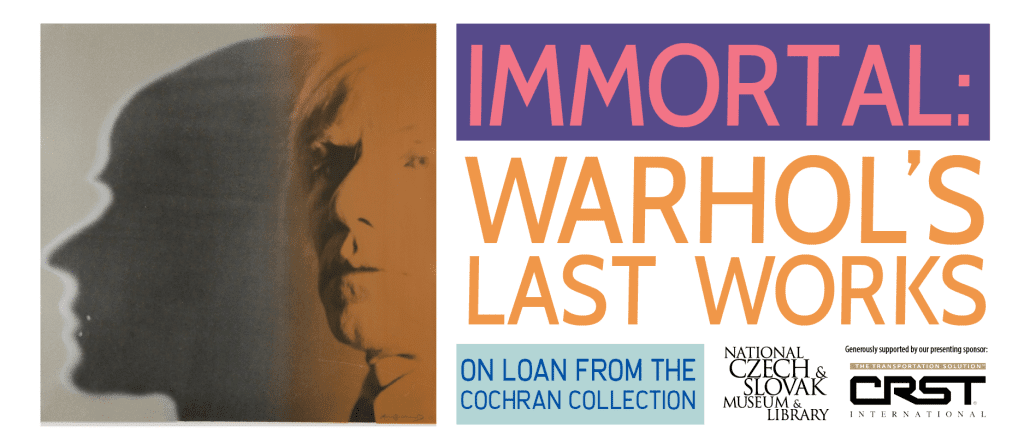 Andy Warhol was arguably the most documented artist of the 20th century. He was a Pop Art icon, eccentric celebrity, sugary food lover, high fashion model and Campbell's Soup fanatic. What may be less known is that Warhol was the son of Carpatho-Rusyn immigrants from a remote village in far eastern Slovakia.
Our Warhol exhibit will feature large scale prints of famous characters including: the Wicked Witch of the West, Superman, Mickey Mouse and pays homage to the likes of John Wayne, Annie Oakley and Sitting Bull. If you're as excited as we are about this exhibit read on…
Do you want to be one of the first people to see our Warhol exhibit? Would you like exclusive access to the exhibit before it opens to the public? If you answered "yes" then become a member of the National Czech & Slovak Museum and join us at our MEMBERS ONLY: Exhibition Opening Party for Immortal: Warhol's Last Works on Friday, May 13th from 4-6pm. We'll be serving a few of Andy's favorite snacks and our museum bar will be open for you to enjoy!
Member only exhibit openings are planned for nearly all of our exhibits. Once you're a member you'll receive special invitations to all of these opening parties. You'll also receive these additional benefits: FREE admission all year long, a 10% discount in our museum store, our award-winning Slovo magazine and MOST newsletter, and discounts on our programs and workshops.
Follow these easy steps to attend the exhibit opening party:
There are two easy ways to become a member: 1) Click here to sign-up online, or 2) call 319-362-8500. We have individual, family and several other membership options available.
Once you have your membership you can RSVP for the party at www.NCSML.org or call Rachel Wobeter: 319-362-8500 x 207.
See you at the party on May 13th!