CEDAR RAPIDS, Iowa – "Heritage Caretakers of Moravia", an art exhibit celebrating the women keeping folk art alive, opens February 27 at the National Czech & Slovak Museum & Library.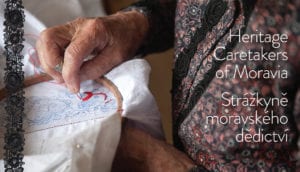 Presented through the eyes of Czech-American artist Sonya Darrow, this exhibit brings together different narratives to reweave the fabric of social life between generations and place. Darrow worked with the women in south Moravia in order to preserve cultural heritage for future generations and to use their stories to inspire Czech settlements in the United States.
The exhibit also explores the current state of the folk art movement to keep the "everyday" folk dress (všední kroj) along with the working folk dress (pracovní kroj) out of the garbage, and to discuss the topic of sustainable folk art practices. The exhibition is connected to the book "Víchernice", or "Vanishing Perennials of Moravis", created by Jihomoravská komunitní nadace with photography by Líba Taylor.
An exhibition opening will be held from 6 to 8 p.m. on Thursday, Feb. 27, at the Museum. It will feature a social hour, followed by a panel discussion with Darrow and two legendary folk artists: Marj Nejdl of Cedar Rapids and Marie Švirgová of Lanžhot, Moravia. Švirgová is traveling to Iowa specifically for this exhibition. A book signing, and meet and greet will follow.
During the opening, a collaborative folk motif (malované lidové motivy) will be unveiled by Švirgová. Švirgová collaborated with Darrow on a folk motif to be dedicated to the National Czech & Slovak Museum & Library. The only other place in the world with this motif is in Švirgová's hometown of Lanžhot.
For more information, contact the National Czech & Slovak Museum & Library at 319-362-8500.