The Czech and Slovak Heritage Garden on the lawn of the National Czech & Slovak Museum & Library is under way! Museum staff began preparing the garden plot in 2015 by spreading compost and growing a cover crop of organic buckwheat and radish. This spring, the soil was ready for planting. With the help and generosity of Seed Savers Exchange in Decorah, Iowa, museum staff were able to find authentic Czech and Slovak heirloom vegetable seeds. Each seed has a special story, which we will begin exploring in later blog posts about the garden.
The Czech and Slovak Heritage Garden has many important tales to tell: stories of social history, local food and commerce, family traditions, and much more. For this reason, an intern was hired to assist with the garden project. Marissa Hedlund, a student at Coe College in Cedar Rapids, has begun piecing together food and farming histories of area Czech and Slovak immigrants for use in future education programming. She also planted this season's garden, and is responsible for overseeing its care.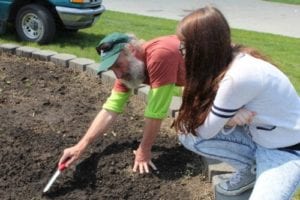 From Marissa:
"I was born and raised in the Chicagoland area and moved to Cedar Rapids to attend Coe College, where I am hoping to receive an undergraduate degree in environmental chemistry and physics. I plan on pursuing a career involved in several aspects of sustainability, including solar and other forms of renewable energy and sustainable agricultural practices – along with water and soil quality. I enjoy cooking, baking, playing video games, going for hikes,  making jewelry and learning new things.
When it comes to the Czech and Slovak Heritage Garden at the museum, our goal is to maintain traditional gardening practices by using organic seeds and compost, and omitting the use of pesticides or artificial fertilizers. The Heritage Garden contains six different heirloom vegetable varieties from the Seed Savers Exchange Preservation Collection. We have kohlrabi, peppers, two varieties of tomatoes, and two varieties of lettuce from the SSE's collection. Additional organic veggies include carrots, potatoes, onions, cabbage, dill, and basil. The lettuce, kohlrabi, potatoes, carrots, and onions were planted in the garden on May 7 and are all doing well thus far. We're starting the peppers and tomatoes indoors to ensure that they grow strong and yield as many veggies as possible. The herbs (dill and basil) were planted on May 18, and I'm hoping the geese on the banks of the Cedar River will keep away from the young seedlings. Considering this is the first year the National Czech & Slovak Museum & Library has implemented the Heritage Garden, I'm very excited to see how the project turns out. I'm lucky to have guidance and advice from the renowned soil doctor, Scott Koepke of Johnson County Grow, who is an expert on organic agriculture and an overall great guy. Stay tuned for more garden updates!"
[su_divider top="no" divider_color="#5b5b5b" link_color="#3a3333″][su_divider top="no" divider_color="#f9f5f5″ link_color="#3a3333″][/su_divider]
To learn more about how you can give to support this initiative, visit our website NCSML.org/support and give a gift through our Summer Fundraising Drive Indiegogo page. You can make a gift in honor of someone important to you, and many levels are available for dedication, including pavers in the garden.
Sponsors for the Czech and Slovak Heritage Garden and related programming include:
Alliant Energy, Rockwell Collins, Lu & Katherine Svoboda, Carey & Terry Downs Gibson, Carol Vavra, Seed Savers Exchange, and Silos & Smokestacks National Heritage Area.