Do you know what it takes to design the NSCML Custom Charm Collection?
An interview with Katherine J. Kornblau of KJK Jewelry New York, designer of our Custom Charm Collection.
Talk about the inspiration for this year's custom charm, the poppy – how did you create the design?
In thinking about this year's NCSML charm I first looked to your exquisite perfume bottle collection. I was delighted by the natural elements; the stylized flowers and butterflies. Poppies were represented on some of the bottles. I know they are native to the region and they are favored for their color and for their delicious seeds. Additionally, red is a special color in the hearts of NCSML members. I recently read that in the Czech Republic red is worn because it symbolizes joy, health, and happiness. When I put together the idea of poppies and the color red, a beautiful image by Alphonse Mucha came to mind. That is how I knew it was a really good idea.
Once you've created the design, what happens next?
It may surprise some of the younger readers to know that we still draw the original designs by hand. After the drawing is made, a master model maker creates the first piece by hand in wax. Once the sample piece is approved, we make a mold and then cast a few pieces that we can use to test colors and designs. In this case, we loved our very first color attempt – the glowing red with contrasting black inside.
Once I have the design and color established, I search for stones, pearls, glass, chains, and other components that will be meaningful to the story. In this case we liked several ideas including a striking collection focused on the contrast of the red and the black and a more classic themed group featuring genuine cultured pearls with touches of the red and gold.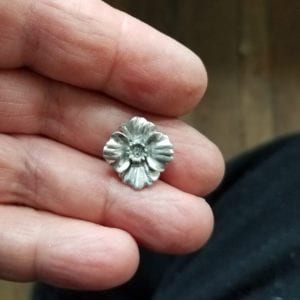 When I design any collection I use three archetypal women for reference in my mind: my mother, myself, and my daughter. For my mother, I design longer necklaces and bracelets that need no clasp with post or clip on earrings. For myself, I design shorter necklaces that flatter the neckline and longer earrings, and for my daughter, I design smaller pieces that will not overwhelm her small frame such as small colorful post earrings and chains with a single charm. Of course, people of all ages are encouraged to choose whichever styles suit them the best. This is just a rubric I have formulated to make sure I am designing for many types of people.
How do you determine what styles make it into the collection?

I believe that good design does not go out of fashion. You may be able to recognize what era it was created, but the pieces will always work because they have an inherent balance. When I hit that balance in a piece, I know it is done. This piece came out so beautifully that it was a joy to work into jewelry. My difficulty was stopping with the designs. I am already thinking about what this poppy might look like in another color. Perhaps pink and purple for Spring?
Tell us what you'd like to see!