The Czech Post recently released a new stamp honoring the Czech Republic's essential workers for their service during the ongoing COVID-19 pandemic. Filip Heyduk, a graphic artist in Prague, designed the stamps. Heyduk recently participated in a Q&A with Daniel Pogorzelski, a writer and editor at Forgotten Chicago, about his work.
1) Tell us who you are.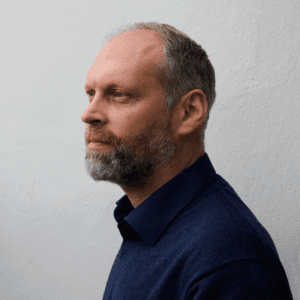 My name is Filip Heyduk and I'm a graphic designer at Heyduk, Musil & Strnad Design Studio in Prague. The studio was established in 2000, so this year marks the 20th anniversary of our operations. Our work includes typography, visual identity, exhibition projects, web design, posters, logos and postage stamps.
2) Where do you live? Does it influence your work?
I live in Prague's Old Town, in the very center of the city. Passing by places of major historical significance on daily basis must, of course, affect me. Additionally, as our team does commissioned work for the National Gallery and often visits its exhibitions, we are in constant contact with history. Currently, we are working on a Rembrandt exhibition, which will take place this September at the Kinský Palace at the Old Town Square.
3) What inspired you to become a visual artist?
My father, who was a photographer, often collaborated with graphic artists, painters and sculptors. They used to meet at our home or in his studio at Malá Strana. That was a big influence – I knew relatively soon what I wanted to do and what this kind of work involved. Although I initially inclined toward photography, I sensed that this medium alone was not enough for me to express myself. From the beginning, I liked typography; I admired artists like Oldřich Hlavsa, Jan Solpera or Jiří Rathouský. Therefore, when I enrolled in the Academy of Arts, Architecture and Design in Prague in 1988, I quite logically selected the Department of Applied Graphic Design.
4) Describe to us your aesthetic and your influences.
At the academy, I became familiar with the work of the international stars of graphic art – we could see GRAPHIS, a Swiss magazine published at that time, at the Museum of Applied Arts opposite our school. People like Neville Brody, Ed Benguiat, Herb Lubalin and others helped me shape my artistic opinion and feeling. Their graphic expression was characterized by purity, distinctive typography and novel ideas. These principles are still close to my heart.
5) What would you say is your strongest skill and how have you honed it over the years?
I believe that my work taught me to express myself through graphic images – to find signs or symbols that convey the essence of the subject matter quickly and simply. This helps me while coming up with ideas for a movie poster, a book cover, or a postage stamp. Sometimes it even offers me new possibilities of adapting or processing an idea in a unique and unusual way. I like typography – I enjoy working with font and pushing its limits sometimes to the point of tolerability, but that's precisely what also pushes me further.
6) How does your Czech identity fit into your life?
I experienced November 1989 and the fall of the totalitarian regime in my sophomore year in college. This time of change greatly affected us all – suddenly, we were able to express ourselves freely and to say what we really thought. For the first time, we were proud to be Czechs. We made banners, printed posters and leaflets, and created our new identity along with the new Czech state. This means a lot not just to me, but also to my entire generation. This is also why today we are very sensitive to the various political changes that are taking place in our society – and not only in our country.
7) Have you ever traveled to the United States?
I first visited the United States in 2009 when my family and I traveled to New York to see our friends. In 2014, I spent two weeks in Chicago together with my wife Renáta Fučíková, an illustrator, and our son Jakub, at the invitation of the T. G. Masaryk Czech School. During this trip, we also drove to the National Czech & Slovak National Museum & Library in Cedar Rapids, and to Spillville, Iowa, a home to many Czech-Americans. It was quite an experience for me to see so much "Czechness" so far away from my homeland.
8) What type of project do you enjoy working on the most?
Always the last one. But in all seriousness – we work on cultural projects, exhibitions, we design books, catalogs, magazines, logos, and even postage stamps. It's a beautiful job. During the twenty years of the studio's existence, we have earned respect from our clients who trust us and give us a free hand. Or we're just lucky. And then, we work on commercial projects, which in turn require a different approach. Maybe it's precisely this balance between various projects that I enjoy the most.
9) Tell us about the stamp you recently designed honoring the service of essential workers for the Czech Post.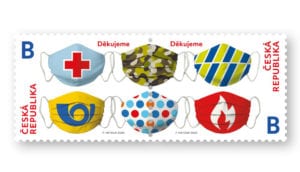 At the beginning of May, I was approached by the Czech Post about designing a special stamp that would honor emergency service workers and all volunteers instrumental in managing the COVID-19 crisis. We all intensively experienced a new situation – there was a shortage of medical supplies, people made their own protective masks, which they delivered to hospitals and distributed among the needy. The facemask became a symbol of this time and an inspiration for my proposal.
The subject of the postage stamp are six protective facemasks with graphic symbols representing various types of essential workers: healthcare professionals, soldiers, firefighters, police, postal workers and volunteers. The masks are interconnected to symbolize cooperation. However, a problem came up when I tried to squeeze all the masks onto one stamp. There were simply too many of them and I didn't want to make the masks too small. In the end, I persuaded the Czech Post, which was very accommodating and allowed me to divide the motifs into two stamps, one next to the other. At last, a double stamp was created, which actually looks much better and much more interesting.
10) Have you designed any other stamps?
I have been working for the stamp production of the Czech Post for a long time. The first time, I was approached to design eight stamps representing the state symbols of the Czech Republic: the greater and the lesser coat of arms, the national flag, the flag of the President, national colors, the national seal, and the national anthem. It was a challenge as stamps with state symbols were issued in the past. I wanted to avoid certain rigidity of the symbols and design my stamps differently. In the end, I worked with photographic cutouts of symbols, flags and scores, which are so well known. Thanks to this, the stamps look different and original, and were a great success.
This work was followed by the design of an occasional sheet of four stamps with motifs of state decorations. Later, I also designed two stamps with Czech Christmas motifs.
11) What accomplishments are you most proud of?
During the last twenty years, there were many successes but also failures, of course. To this day, I am glad that we were involved in the new visual identity of the Czech Philharmonic in 2012, and the design of new logos and visual style for the Academy of Performing Arts in Prague and its faculties (AMU, DAMU, FAMU, HAMU). I also enjoy the projects I collaborate on with my wife Renáta Fučíková. We have published several books together – The History of Europe and two books from the edition The Greatest Playwrights about Shakespeare and Molière, to name just a few. We also worked together on Bohemian Stories: An Illustrated History of Czechs in America, a project initiated by the teachers at the T. G. Masaryk Czech School in Chicago, namely Irena Čajková and Klára Moldová. Irena Čajková also translated this book into English for American readers.
12) Have you ever worked in film? If so, tell us which ones.
I designed film posters for several films, including the films of the well-known Czech director Jan Svěrák: Elementary School, Accumulator 1 and Kolya, which received an Oscar for a best foreign language film. I've always enjoyed working for film, although I don't design film posters anymore these days. However, I am currently working on an extensive book mapping the last twenty-five years of the Karlovy Vary International Film Festival. It's interesting to see how Czech film has changed over the last three decades. The book will be published this autumn.