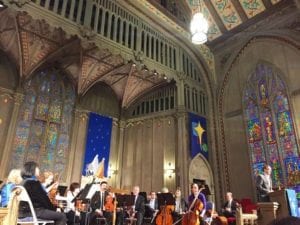 Jakub Jan Ryba's ČESKÁ MŠE VÁNOČNÍ (Czech Christmas Mass) has been enjoyed by people around the world for more than 200 years. On Saturday, December 10th, The Prague Committee of Chicago Sister Cities International & The Consulate General of the Czech Republic, in concert with The First United Methodist Church at the Chicago Temple, organized two performances of this famous composition, which over 1,100 people enjoyed.
Thank you to the committee in Chicago for organizing this event and inviting the NCSML to attend. Thank you to the donors who made the event possible, and the musicians who performed beautifully.
A history about the composer as provided by Lester Munson, Chicago:
"Jakub Jan Ryba (1765 – 1815)
From an early age, music was the joy in the life of Jakub Jan Ryba. Born on October 26,
1765, Ryba was practicing the violin and the piano at age seven. He began composing
as an adolescent. Accepted into a high school in Prague, he left his small village of
Prestice and entered a new universe of music. He mastered the cello, performed in
string quartets, and directed choirs in two churches. At ages 17 and 18, he composed
prolifically, producing 24 quartets, a quintet, 12 piano sonatas, an opera, eight nocturnes,
4 songs, and his first mass.
Under powerful pressures from his father, he left Prague and its music and returned
to the village and a job as a teacher. Although his teaching career was marked by
controversies with parish school administrators, he continued to compose and to
conduct church choirs. By the age of 30, he had composed 30 masses.
He wrote the Christmas Mass in his 31st year, ignoring significant problems in his teaching and his
family and focusing on the joy and the splendor of the birth of Christ. Although many
of his compositions have been lost, the Christmas Mass has, for more than 200 years,
been the source of awe and wonder for audiences around the world. His joy in his music
becomes our joy at Advent."