Everyone has a past and a cultural history; likewise, everyone is part of the legacy of others. That is the reality from which fundraising for the NCSML stems. The lessons of the Czech and Slovak experiences transcend the specific cultures and pertains to everyone. On my recent trip to Cedar Rapids, I had the pleasure of chatting with many people proud of Czech and Slovak cultures, and the lessons therein, but not all were of those heritages. That is exactly why so many of the programs, exhibitions and events are free or low cost in order to introduce people of all ages to the beauty, wisdom and lessons of the cultures we celebrate.
Much of our fund-raising effort focuses on initiatives that help others learn from or experience facets of Czech and Slovak cultures. We also offer people opportunities to celebrate families, loved ones, or those who have made a difference in their lives. This multi-level celebration of culture and people plays a tremendous role in informing and inspiring others.
Learn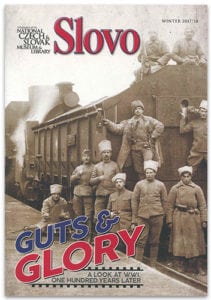 Have you read any issues of Slovo? This bi-annual magazine is a membership benefit, with back issues also available for purchase in the Museum Store. Interesting, thoughtful, well-researched articles provide readers with information and insights from Czech and Slovak history. "No! We Won't Die": Rediscovering Emil Kubek, written by Nick Kupensky, and Old Countrymen, New Neighbors:  Early Carpatho-Rusyn and Slovak Immigrant Relations in the United States by Richard D. Custer are two sample articles that you can read online to better understand the quality of Slovo. Become a member to receive the upcoming issue that features art, culture, and family. Slovo makes a great gift, serving as a wonderful introduction of the NCSML to someone who knows and believes in the cause.
Experience
The NCSML's programs touch all ages. Scanning the schedule provides a view of tours, lectures, exhibitions, and more for all ages. In recent conversations with donors, I learned that Kim fell in love with her culture essentially at birth with her family celebrating its heritage at every get-together and in family life, while Merle found his love for his heritage anew at the age of 40 when visiting the Czech exhibition at the World's Fair in 1967. The point is, as a museum and library we must be open, literally and figuratively, to all ages at all times. We never know when someone will fall in love, so we provide information and experiences in person, online, and through the mail.
Celebrate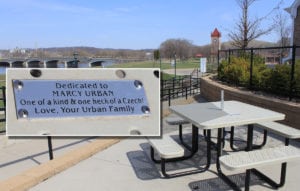 People learn about heritage and culture when others pay tribute. Dedications made on plaques, pavers, and name plates give viewers insights into the people and culture that provide meaning. The NCSML's Summer Dedication Drive provides the chance not only to pay tribute, but also to make a statement. Honor someone you love or simply to proclaim, "I love my culture and heritage!"
You can learn more about supporting the NCSML's programs on our Support page. Feel free to contact me with any questions at DMcInnis@NCSML.org or 832-877-8821.