Art takes many forms, all of which reflect culture through the voices of its creators. The National Czech & Slovak Museum & Library is proud to be part of the cause, effect and expression of art. We are reminded frequently of the importance of our art-related projects and programs to connect people to each other and to history.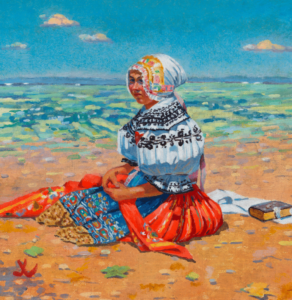 Alex, who lives with his family in the Northwest, is a new President's Society member who became involved with the NCSML through his interest in the work of Joža Uprka. Inspired by the recent NCSML exhibition of Uprka's work, he contacted the NCSML and through his own experiences he realized the importance of exhibitions to stir memories, make connections and create perspectives on life today because of life of yesteryear.
He wrote, "There is a degree of fascination and nostalgia evoked in me by Uprka's paintings that is difficult to describe. I first experienced the close connection with a painting auctioned online a few years ago: I found myself transported back to family gatherings, weddings, funerals, fairs, rocks throwing into Morava, hot summers and religious events I recalled spending as a little boy with my mother's family near Uherske Hradiste. The colors and people on Uprka's paintings seemed so familiar, jolting my brain to noises, smells and music from those moments in my childhood. I had to ask myself whether I saw his work in a museum, in someone's house during my life in CZ, or whether I actually lived out those moments in reality." He continued in a subsequent message with "Discussion of our cultural roots and past experiences are often filled with nostalgia and may come across rather self-centered and selfish. That is not my intent. I believe in an apolitical way, that the power of our shared diversity has to be continually recognized by acts small and large, as the mainstream values of our society show focus on the more immediate needs, at times ignoring what made and still makes America great. NCSML does its part, we try to do ours."
Indeed, together, the NCSML and our friends, donors, members, partners, volunteers and leaders are doing our parts together.
I would love to hear your favorite art story. Contact me at 832-877-8821 or at DMcInnis@NSCML.org.