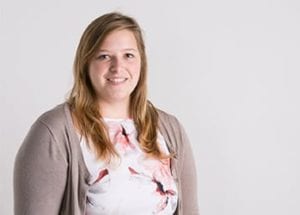 By Sarah Henderson, K-12 Learning Specialist
It has been said that one of the best ways to learn is to teach. What sort of learning experience has it been to work with youth regarding voice, protest and the Berlin Wall? Hear from our K-12 learning specialist who spearheaded the Berlin Wall project.
Each day, I come to work believing we must embed museums into their communities in the most useful and necessary ways. This was always my intellectual pursuit as a student of museum studies at Georgetown University, and now at the National Czech & Slovak Museum & Library (NCSML), I'm part of prioritizing innovative education in a way I have never seen before.
In each student I have had the privilege to work with, I see an endless lifetime of potential and possibility. As a museum employee, I see it as my duty to help cultivate that potential. That is exactly what we set out to do when we began the Revolution Starts in the Streets program, colloquially known to many involved as the "Berlin Wall project". With this project our goals were lofty but our successes are greater than any one of us could have imagined.
What if?
We started with an idea to honor the 30th anniversary of the fall of communism across Europe. We also knew we wanted to work with local high school students through a collaborative project. In summer 2018, I crowded NCSML staff members around a table and asked the crazy question, "What if we build a replica of the Berlin Wall with high school students?"
My amazing colleagues received my question with optimism and adventure. Instead of balking at the idea of students building a Berlin Wall, we began writing grants for the project immediately. By the fall semester, we were working with Metro STEAM Academy at Metro High School to build a Berlin Wall. We also partnered with area high school program, Iowa BIG, to market the project. With their work and research students learned valuable marketing and art skills. The new collaborative program at Alburnett High School joined our forces as well and designed screen prints for our education outreach around the Berlin Wall. Over the course of the school year, we would meet with over ten community organizations and countless professional mentors who invested their time and energy into making this project as meaningful to our students as possible.
Students met with business leaders, trades professionals, architects, and artists to build everything we now have: a sixty foot long Berlin Wall, a dynamic and creative marketing plan, and professional quality screen prints for public outreach.
Unconventional education
In total, we worked with over 50 high school students and seven educators over the course of an entire school year. Students received in-person career counseling and mentorship from every community partner and in nearly every instance students were tasked with professional responsibilities. At the end of their semester there was no test, no worksheets with dates to fill in about the demise of the Berlin Wall.
Instead, students and teachers sat in our public library with the current Slovak Ambassador and heard firsthand what is was like to grow up under communism. The Ambassador painted a stark image of communism for our students and asked them very tough questions about their project. He asked them why young people lead revolutions and how they felt building a replica of a wall so many had struggled for a lifetime to tear down.
We are looking in the face of very unconventional education and I could not feel more optimistic about its outcomes. I ask you to consider which experience will have a more lasting impact on today's youth: a history book and classroom lessons, or erecting a sixty foot long Berlin Wall in the back yard of a national museum?
The power of art in peaceful change
The NCSML is interested in more than simply meeting educational standards. We are invested in nurturing a future generation that will be engaged civic leaders. By using Czechoslovakia's Velvet Revolution as a launching point, we showed students the power of art and protest to make just and peaceful change in society.
And that first colorful mural? Our students worked with local artist, Paco Rosic. Before painting with students, Paco told students about his journey as a Bosnian refugee who grew up in Germany and learned art in the streets of Berlin. Their mural, a series of elephants charging through a brick wall, symbolically represents the will of the people to address "the elephant in the room" whatever it may be at any given time in a society. In the past, that elephant was the Berlin Wall and oppressive communist governments, and today we will wait for our young people to decide what it will be.
One thing is for certain: this project taught them the power of their own voices and I am confident they will use them with intention and purpose.