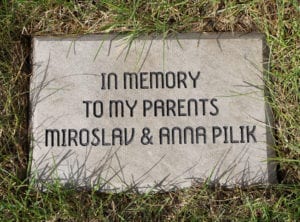 Eva Pilik chose to honor her family with a dedication at the NCSML. We are honored to be part of how she recognizes her lineage. She shared her story in response to being notified that her dedication was in place.
Her mother and dad came to the United States in 1950 aboard the USS Hersey transport ship to New York. They had no extended family here, and had gone through many challenges leading to their immigration. Her mother had grown up during the war and married at 17, was in communist prison at 18, and escaped with her husband. Eva was born in France when her mother was 19. Eva's maternal grandfather died when her mom was a baby. Her father lost his mother to a heart attack when he was 16; he was 18 when his dad died from war injuries. Clearly, life was not easy.
"No one really knows how it is to grow up alone with no relatives and parents working two jobs," she said, noting that her mom cried often.
"Stories are important to families and mine have all gone so this (paver dedication message) is so beautiful. Nature was my salvation all my life growing up alone. Thank you again for this special token for my soul in their memory," she added.