Sandria is a retired professor of art with a specialty in printmaking. Decades ago she created an international art consortium that included partners in Czechoslovakia, Ukraine, and Mexico. Her interaction with artists and citizens resulted in many incredible stories she witnessed or heard, including censorship, use of force by authorities, imprisonment, poverty, recriminations, and more; she told stories of the effects of communism. The art she created and the art she witnessed being created developed connections and understanding. Art removes borders; it shares voice; and, it creates understanding.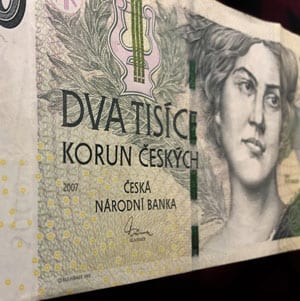 I remember when she told me about her being at an artist's house when the communist police arrived and took his work into the alley to burn it as a warning to anyone else who might have the audacity of artistic expression that did not meet the standards of government. He had been imprisoned for "defamation of the allied socialist states." The artist was Oldřich Kulhánek who is famous for his derogatory etchings of leaders, and for the images he created for the banknotes and postage stamps of Czech Republic.
Art is more than a component of culture. It is its voice, spirit, soul and heartbeat and through it we connect individuals, cultures, countries … and revolutions.
I would love to hear your story. Contact me at 832-877-8821 or at DMcInnis@NCSML.org.