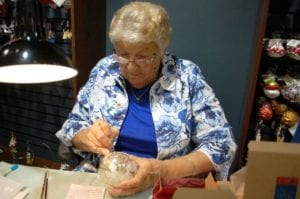 The Christmas season is a very special time at the National Czech & Slovak Museum & Library, but one of the true heroes of the holiday is Master Czech Folk Artist Marj Nejdl. Year round, Marj donates her precious time and extensive talent to hand paint personal messages on mouth-blown glass ornaments sold in the Museum Store. Several times in December, Marj sets up shop in the Museum Store and warmly takes requests to personalize ornaments for guests. Her personal touch makes each a unique and special gift.  Some visitors even plan their visit around such special appearance in the store!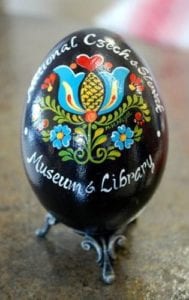 Marj is a first-generation Czech-American and comes from a long line of creative people. She learned egg decorating from her uncle when she was a child, but she feels her artistic flair comes from her mother. She paints wax-resist Czechoslovakian decorated eggs for Easter, employing a variety of traditional techniques and also works with wood, ceramics, glass and "anything with a good surface for painting."
But perhaps her favorite time of year is Christmas. "I love it, and I love coming into the museum during December on Saturdays, because everybody's in a good mood, and it's fun," Marj says.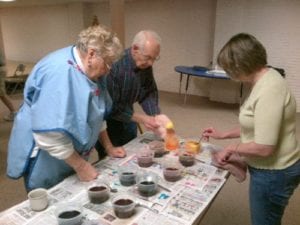 For the first time, Marj has designed a limited edition custom ornament available exclusively in the Museum Store. The first step in producing the ornament was creating the original artwork. She hand-painted several designs with her distinctive Czech folk art flair. Once the final artwork was selected, samples were requested from production house artists in Europe. Several samples were submitted, and a process of careful selection ensued. Once the final version was selected, production of the ornament was ordered. The store will continue to introduce a new custom ornament designed by Marj every year.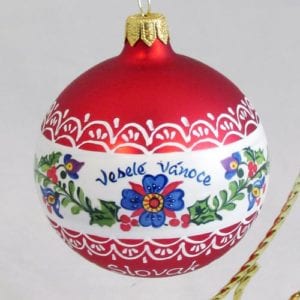 How long is Marj planning to keep it up? "As long as I can see and hold a brush, I'll be doing it," she says.
Marj has worked closely with the museum on many projects over the years and continues to generously volunteer her time and talent toward our mission. She has her own chapter in the story of the success of the NCSML and we are eternally grateful for her tireless contributions.