How long have you been designing jewelry, and what influenced your aesthetic?
I've always seen the world a little differently – and I've always tried to make pretty much everything into jewelry! I started out stringing macaroni to make necklaces, encouraged by the artists and scientists in my family, and never really stopped seeing those possibilities.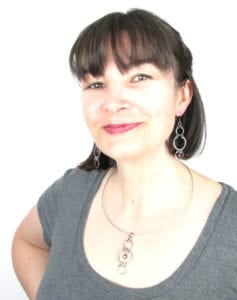 In the late '90s, I visited an electronics surplus yard with my engineer dad, and found some very cool components – one version of the hardware I still use, in fact. I began connecting them together to see what I could make, and even sold a few pieces to a local store. But I knew I didn't want to use glue or welding to create the patterns I envisioned – I wanted things to move, not to be stuck in place. It wasn't until I learned chainmaille techniques in the early 2000s that I could finally turn my visions into something wearable.
I love finding beauty in the everyday world. So, I highlight the industrial design of the hardware I use, celebrating its modern lines, and the patterns it makes. The difficult part is translating those patterns into an articulated yet stable piece that looks fluid, but never collapses into visual mess. The pattern you see is defined by tension – all those tiny links, each opened and closed by hand, by me – pulling the hardware in different directions, keeping the vision clear. Just like in traditional chainmaille patterns.
Perhaps most unusually, my designs are as inspired by movement and feel as they are by visual patterns. I believe jewelry should be comfortable, effortless, and should shift and move and change as the wearer moves. Imagine a sculptural mobile, whose effect changes depending on the viewer's position, rather than an oil painting. It's an exciting challenge for me.
How did you begin working with the NCSML? How has that relationship developed? What has been the response to your Industrial Glass Collection?
I met Sarah Jane Wick of the NCSML on a riverboat in Pittsburgh, of all places! We were both attending the Museum Store Association conference. I love the unexpected connections that happen when artists and museum staff talk shop, and the creative energy that grows out of those conversations.
Sarah was looking for something new – something that took traditional Czech glass beads in a modern direction. And I'm always looking for an artistic challenge that inspires me. I agreed to try out an idea or two – and promptly got carried away with the colors and magical sparkle of Czech glass. Before I knew it, I'd designed an entire Industrial Glass collection!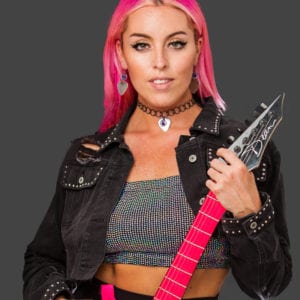 It's been so fun to hear which pieces have really clicked with museum visitors, and what else they're looking for from my work. Most recently, we worked together on pieces inspired by "Medieval to Metal: The Art & Evolution of the GUITAR." Exploring new shapes and new ideas within my aesthetic keeps everything fresh, for me.
Fast forward to another meeting of museum minds – and now the colorful sparkle of the Industrial Glass pieces is catching other museum stores' eyes! It's so fun to watch ideas come full circle.
What sparked the idea for a trunk show with the NCSML? Have you done a remote trunk show before?
Museum stores don't just sell things; they let you bring a piece of that history, that art, that idea into your life. And, artists don't just make things; we make our visions real, so that you can enjoy them too. That's why we partner so well together – we understand each other's broader ideas.
In my mind, a trunk show is an opportunity for a peek inside an artist's mind and process through a broader slice of work – a chance to see (and buy!) past experiments and future research. It expands what's usually available. I'm not able to visit and work in every area of the country, but I enjoy sharing what I do. My last remote trunk show was at an art museum in New England. I'm looking forward to seeing where my studio travels next!
So, what's your studio like? What would we see there?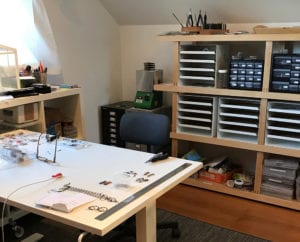 My process moves from creative chaos to order, and so does my studio! It's definitely a work space, not as a display space. So, you'd see five to ten ideas in progress – some for current orders, and some possible prototypes for the future — surrounded by tools and supplies. When I finish working through an idea or creating a piece, those get cleaned up and put away, so the blank space can inspire me to fill it again, and I move the finished piece so I can see it while I work on the next one, along with prototypes I'm considering for future work. I try to keep a few flowers from my garden in here, too. It's nice to be able to rest my eyes on that bit of beauty when every other surface is covered.
Because I'm a one-woman business, you'd find everything else I need packed in there too: photography equipment, paperwork, labels, mailing supplies. It can get crowded at busy times! But I love walking up the stairs to the attic of my 1921 bungalow – sloped ceilings and all – and settling in to work, listening to the birds in the trees outside, and the rain pattering on the roof. Having a separate space really helps my work-life balance.
Where else would you find your jewelry?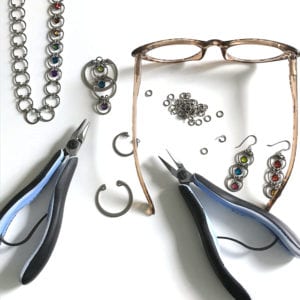 My work covers an unusual intersection of art and engineering that fits a wide variety of museum store missions around the country, including:
The Museum of Flight (Seattle, WA) – hardware used in aeronautics and space exploration
Columbia River Maritime Museum (Astoria, OR) – hardware used in marine vessels
The International Spy Museum (Washington, DC) – look closer: things aren't always what they seem (including this jewelry!)
Edsel & Eleanor Ford House (Grosse Point Shores, MI) – hardware used in automobiles
National Museum of the Pacific War (Fredricksburg, TX) – hardware discovered in German tanks in World War II helped popularize its usage
Some museum stores bring it in for special exhibitions as well, such as the Knights exhibition at The John and Mable Ringling Museum of Art (Sarasota, FL), since I make my jewelry using chainmaille techniques.
My work has also traveled to Europe, to one of the Finnish National Gallery stores in Helsinki.
Have you ever been to Iowa?
Not yet, but I'd love to visit someday! The closest I've come so far was a production of The Music Man in high school – so, I really ought to give Iowa a try!
It still amazes me how many places my jewelry has traveled that I've never been to. It really helps me remember that my art isn't just about the artist – it's about the experience of those who wear it and appreciate it, too.