by Marissa Hedlund, Czech and Slovak Heritage Garden Programs Intern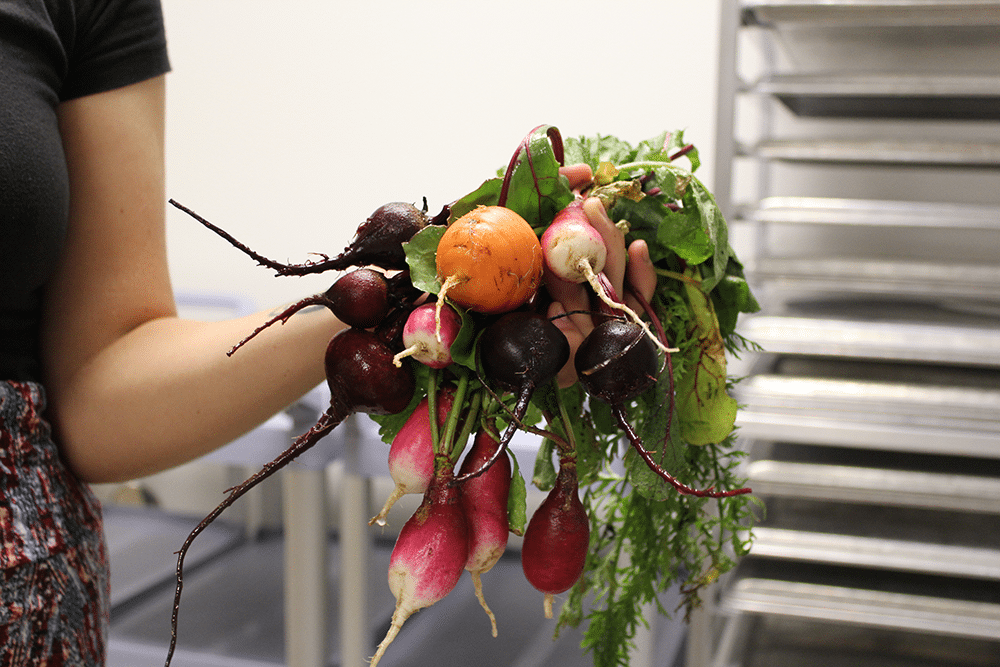 This past month, our Heritage Garden has been delightfully fruitful. We have had a consistent influx of beets, radishes, and onions that have been used for several vegetable tastings in our Immigrant Home,
but the majority of the harvest has been going to the Catherine McCauley Center. Tomato and pepper transplants were put in the ground a little later than desired, but appear to be adjusting well to their new home.
I've encountered a few oddities in the garden these past few weeks. The dill we grow tends to go to seed fairly quickly and decided to spread itself all over the garden this season. I allowed the dill to make somewhat of a thicket to attract pollinators, and boy, did it do just that! The number of rare bees and wasps that I've seen this July is unbelievable. A few that I've been able to identify include a red-bottomed Cuckoo bee, black-and-white striped Cuckoo bee, and a dark-blue bumble bee.
There is one wasp or bee that I've spotted a few times and have been unable to identify. It is approximately 3-4 inches long, flies at incredible speeds, and is very attracted to the dill. (If you might know, share in the comments below!) Despite all of the bees around, I've managed to only get stung once this season! I'm inclined to believe that there is such rich biodiversity present within the garden because the NCSML's grounds are spray-free.
Some other strange findings in the Heritage Garden include carrots and peas because I did not plant either of them. The carrots are a little more excusable because we tried growing them last year, but I have no idea where these peas came from.
Some upcoming, noteworthy events include a Pressed Flower & Leaf Workshop that I'll be hosting on Saturday, August 5. Plus, since it is the first Saturday of the month, admission to the museum galleries is free for students of any age! The following Saturday, August 12 will be our second Immigrant Foodways Program. Linn County Master Gardener Judy Stevens will talk about how plants have helped shape history while visitors enjoy a snack prepared with vegetables from our Heritage Garden.
If you're one who likes to plan ahead, I will be hosting a second workshop on Saturday, September 2, where we will be tapping into our creative sides and crafting up some fairy gardens! Make sure to check our events calendar and RSVP or buy tickets in advance if you plan on attending any of these garden-themed programs. Last but most certainly not least, heritage veggie tastings will be available on select Saturdays, as the harvest permits, during our onsite Immigrant Home tours. Make sure to come if you'd like to learn more about what we're doing in the garden, and to taste a little bit of the history we grow!
Until next time,
Marissa