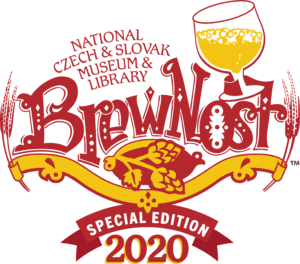 (Cedar Rapids, Iowa – August 31, 2020) – For the safety of the community, the National Czech & Slovak Museum & Library has launched a Special Edition BrewNost for 2020. Rather than host an in-person celebration, this year's BrewNost is a package experience supporting local restaurants, breweries, and the NCSML.
"We sent a survey to more than 8,000 of our members, friends, and past BrewNost attendees earlier this summer to determine how to proceed with BrewNost," NCSML's Director of Community Engagement and Development Evelyn Rossow said. "Most of responses said that while they support the event, they did not feel comfortable attending on-site, even with safety precautions. We completely understand their concerns, and although we are sad that we cannot experience this great event in-person this year, we are excited to offer something safe and fun that raises significant support for the museum."
Four experience packages are available for purchase, with costs ranging from $75 to $175. Each package comes in a NCSML-branded drink container filled with special gifts and provides a Safe Rode – Uber code to use within a 20-mile radius of the NCSML. Each package also includes a BrewNost Local Partners Pass containing special offers at more than 15 participating local restaurants, breweries, distilleries, and more.
In addition to the experience packages and raffle, the annual BrewNost Silent Auction will be online in 2020. Visit www.32auctions.com/BrewNost2020 to register and bid on a variety of items, including jewelry, art, wine, and a mountain retreat in Slovakia.
Packages are on sale now, but the quantity is limited. Pre-ordered packages will be available for pick-up between 2 and 6 p.m. in the circle drive of the NCSML September 23 through September 25. For more information, and to purchase a package online, visit www.ncsml.org/brewnost.