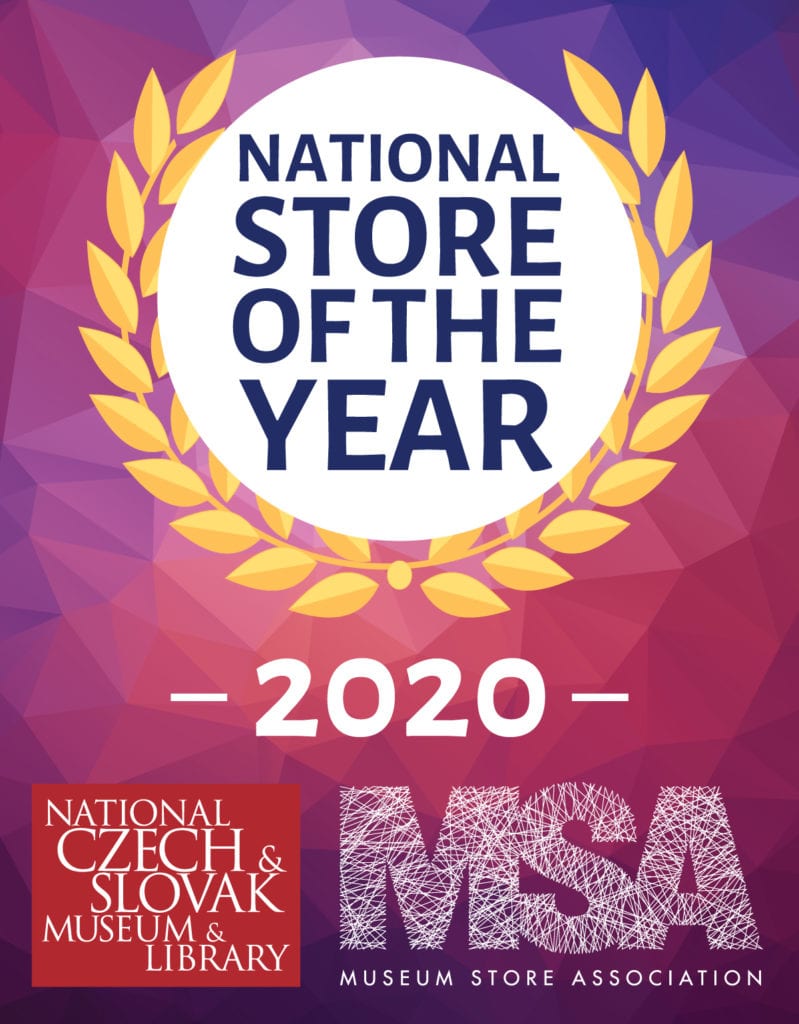 (Cedar Rapids, Iowa – Sept. 28, 2020) – The Museum Store at the National Czech & Slovak Museum & Library was named the 2020 National Store of the Year by the Museum Store Association (MSA).
The MSA introduced this honor in 2018. The award is about advocacy and recognizes the unique qualities and individual characteristics of museum stores and the professionals who create them.
 The MSA Board determines the store of the year from monthly winners. The NCSML Museum Store was recognized as MSA's Store of the Month in October of 2019. A year later, the Store recognizes its 2020 Store of the Year honor with a month-long celebration that includes special promotions, exclusive packages, and virtual events.
Kelly Jones of Wraptillion Modern Industrial Jewelry will host a Design on Demand YouTube event including a signature design by Alisabeth Von Pressley! Beginning October 7, visit the NCSML's YouTube page at youtube.com/user/CzechSlovakMuseum to watch how the jewelry is made, then order your custom design.
Local author Dave Rasdal will join us for our second socially distant book signing from 5 to 7 p.m. on Wednesday, Oct. 28. Rasdal is the author of "Night Beat," a murder mystery novel set in the fictitious town of Cedar City, Iowa. Preorder your book package at the Store or online. A sneak peek of Rasdal reading from his novel will be available on the NCSML's YouTube channel on October 14.
A second signing will be happening on October 28, too – an ornament signing! Master Folk Artist Marj Nejdl will sign her 2020 limited edition Christmas ornament from 5 to 7 p.m. in our Grand Hall.
We've created several Celebration Packages filled with Museum Store goodies. With each package purchase, buyers will be entered into a raffle for great store merchandise!
"The goal of the Museum Store is to create a complete experience for visitors that makes a lasting impact," Director of the Museum Store Sarah Jane Wick said. "With custom products and interactive displays within the store, we support the NCSML's mission while extending the visitor's connection to the Museum by providing a way to take a piece of it home with them."
Visit the Museum Store website at store.ncsml.org for more information about the National Store of the Year celebration.