CEDAR RAPIDS, Iowa — The National Czech & Slovak Museum & Library (NCSML) has selected Jim Miller to be the museum's new Vice President for Development and Marketing. Currently the Executive Director at the Historic Valley Junction Foundation in West Des Moines, Miller will begin at the NCSML on July 29, 2019.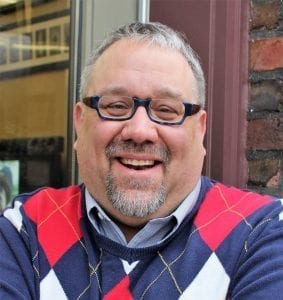 Miller, a native of Cedar Rapids, Iowa, currently resides in West Des Moines, IA where he has been with the Historic Valley Junction Foundation since 2006. Before his current position, Miller has worked as an Urban Program Consultant with the Iowa Economic Development Authority of Main Street Iowa in Des Moines, IA. He has also served as the Executive Director of Nucleus Retail Incubator in Cedar Rapids, IA, the Director of Marketing of the Koehler History Center in Cedar Rapids, IA, and was the owner of Center Stage also in Cedar Rapids, IA.
Jim states, "I am so excited to return to Cedar Rapids and to join this amazing organization. The National Czech & Slovak Museum & Library is truly a leading arts, culture and heritage organization from local to national to international. The recovery, rebuilding and expansion since 2008 is remarkable, and we are just getting started."
Through his passion and experience of preserving and sharing history in West Des Moines, Miller understands the significance of the NCSML to the local community and beyond. In addition, Miller has led various fundraising initiatives and campaigns that will be valuable as the NCSML looks to continue to build a strong foundation for the future.
"I am so incredibly pleased to welcome Jim back home to Cedar Rapids", says NCSML President and CEO, Dr. Cecilia Rokusek. "We at the NCSML were so impressed with Jim's development and marketing experience and background combined with his passion to move the NCSML to the next level as we plan for our long term future. His work in Des Moines was significant and I am confident he will continue to do great things in Cedar Rapids for our NCSML."
[END]
The National Czech & Slovak Museum & Library in Cedar Rapids, Iowa, is a museum that celebrates life:  Czech life, Slovak life and American life. The Museum seeks to inspire people from every background to connect to Czech and Slovak history and culture. Through extraordinary exhibitions and experiences, the Museum tells stories of freedom and identity, family and community, human rights and dignity connecting yesterday with today and tomorrow. The Museum honors those who immigrated to America and worked hard, contributing their skills and vision to the formation of our nation. For more information, visit www.ncsml.org or call (319) 362-8500.