Written by Nicholas Hartmann, NCSML Director of Learning & Civic Engagement
Over the last five weeks, I have been fortunate to be on the road on behalf of the NCSML, giving presentations as part of the new NCSML Speakers' Bureau. Inspired by a invited talk that we gave in Clear Lake in late 2018, we thought one of the best things that we could offer to people – especially those who live further away from us – was a chance to see what we, as staff, could share with the world around us.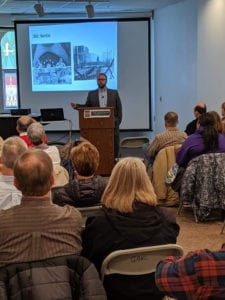 In those five weeks, my travels have taken me to three towns in Iowa. I first spoke about 1989, and the rise and fall of the Berlin Wall and Communism, at the German-American Heritage Center in Davenport (who was hosting our traveling exhibit Witness to a Revolution). Next, my travels brought me to the southeastern Iowa city of Burlington, where we had a full house of visitors come to the Burlington Public Library to eat kolaches and hear about the story of Czech settlers in Iowa. Finally, we were invited by the Kalona Heritage Society to speak about a bit of Czech immigration and revolution at the Kalona Brewery, who prepared Czech dinner and dessert for patrons and visitors.
Not only is this a terrific opportunity to share our museum, and its unique topics, with a wider audience, but it has also been a fantastic way to engage with members who live further away, as well as Iowans who are very proud of their Czech heritage. At every talk I have given, I have been fortunate to hear stories from attendees, who bring family scrapbooks and genealogy folders filled with pictures and lineage guides. They tell stories, show me pictures of their families, and share their heritage from a first-person perspective. It is not only enjoyable, but- as a non-Czech who transplanted to Iowa from elsewhere- a great learning experience.
The NCSML Speakers' Bureau has a wide variety of topics and presentations to share with the public, and our staff are more than glad to work with organizations, clubs, churches and schools to bring our offerings to your community. If you'd like to be one of these groups, please contact us!