(Cedar Rapids, Iowa – Oct. 15, 2020) – The National Czech & Slovak Museum & Library will offer a virtual presentation, "The Forgotten Story of Czech Jewish Teens," from noon to 1 p.m. CDT on Tuesday, October 20.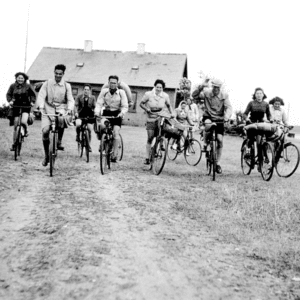 In the fall of 1939, many Czech Jewish teens left Nazi-occupied Czechoslovakia for Denmark, where they spent the next four years living with Danish foster families. Then, in 1943, the Nazis announced that the Jews who resettled in Denmark were no longer free. Rather than be arrested and deported, the teens fled to Sweden. Once close-knit, the youth separated in order to survive. The years passed and memories faded, or they would have had it not been for Judita Matyášová.
Matyášová is a Prague-based journalist. Her work focuses on historical stories, mainly of Czech emigrants abroad. She pieced together the histories of this group, resulting in a reunion 70 years later. She later founded the project, Sophie's Choice / The Czech Way, which documents the forgotten Czech stories of teens abroad.
"The Forgotten Story of Czech Jewish Teens" will be available at no charge, but attendees must pre-register to attend. Register online at www.ncsml.org under the calendar of events section or by calling the museum at (319) 362-8500.
This event is offered in conjunction with "In Her Father's Eyes: A Slovak Childhood in the Shadow of the Holocaust," a panel exhibit currently on display in the Skala Bartizal Library. This exhibit documents the short life of Kitty Weichherz, a Czechoslovakian girl born in the same year as Anne Frank. Told through the eyes of her surviving father, Kitty's story paints a portrait of a young girl's innocence in the face of increasing anti-Jewish sentiment on the eve of World War II.