Larry — an NCSML member, donor, and friend of the museum — and I were chatting about a goal that he set for himself when he turned 40: He wanted to better connect to his Czech heritage. Both of his parents were Czech, coming to the United States in the 1930s.  His dad fought at the Battle of Normandy on D-Day, and his mother worked on the Manhattan Project.
Larry realized that to better connect to others, it is best to connect on their soil and in their language.  Years of travels and learning followed.
The wisdom of his understanding holds true whether or not someone is as immersed in learning and travels as he is.  He attended language classes in Dobruška, Czech Republic, more than a dozen times, simultaneously learning about his family's culture while learning the intricacies of language.  Language and culture are intimately intertwined, each influencing the other over time.  While studying one, you learn about the other. To understand regional characteristics and nuances of words and expressions is to understand the people and cultures of those areas and times. It is one thing to learn vocabulary and grammar; it is altogether different to learn jargon, colloquialisms, and etymology.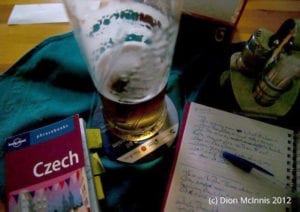 Making connections that lead to understanding requires having a good handle on language.  Smiles, body language, and minimal vocabulary only go so far.
It seems the kolach may be another universal connection when it comes to Czech culture. Despite numerous pronunciations, it seems that everyone has an understanding of what a kolach is. Granted, they are different in various regions, but it seems that wherever "kolach" is mentioned, the word, however pronounced, invokes a smile.
Language, kolaches, and smiles – the great connectors wherever you are.