By Sarah Henderson, K-12 Learning Specialist
Teachers' influence continues for students long beyond the time they are in class together. Learn what Sarah Henderson says about how some of her teachers are now affecting students who visit the NCSML.
I love history because Shannon McDonald, my small-town's World History teacher, would share his favorite books from his personal library with me, a pestering freshman who would loiter in his classroom before school.
I love art history because my teacher Diane Budding handed me a fat book about Picasso after school senior year and told me to write a summary of his biography – I imagine as a punishment for acting out in the classroom that day.
I believed I could go to a top liberal arts college to pursue a career in museums because my teacher Cori McKenzie told me I should after English class one day.
I often have wondered, without some of these interactions and people, where I might be instead of the National Czech & Slovak Museum & Library today. Here in my position as an education specialist I endeavor to teach history and art to people of all backgrounds. My passion specifically has been to introduce our content to teenagers — I think perhaps because of the very question I posed at the beginning of this paragraph. I recognize how influential and impactful the adults mentioned above were to me and so many other teenagers, and I have long believed that museums should find their place in communities to leave that kind of positive impact on young people as well. In the coming years, the NCSML will grow our support for local teenagers and educators in these ways, and much of this work has already begun.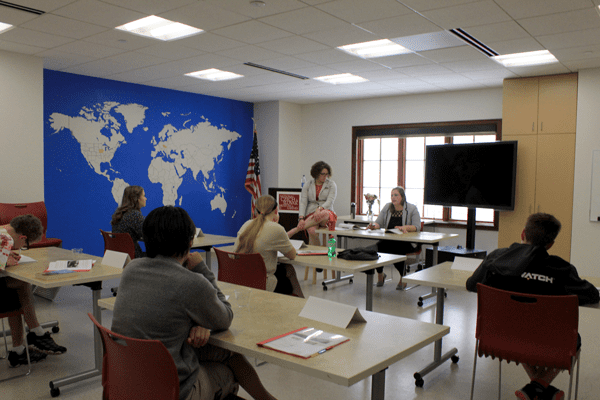 I work quarterly with a small group of local teens who form the NCSML's first ever Youth Advisory Committee. These students help the museum plan events and engagement for other teenagers and serve as leaders in their community. We work regularly with Metro High School to create educational projects for students, and this December we will work with Metro to help them host a robotics competition in our Grand Hall for over 100 students. Last year we saw an increase of 300 high school students attending the NCSML with their teachers for free on field trips. Our new efforts have effectively quadrupled engagement with middle and high school students in the past year.
Our future as a community, a country, and a world currently walks the halls of your local high school as you read this. That's something Mr. McDonald knew when he handed me a book about Michelangelo. It's something Ms. Budding knew when she asked me what I thought of Picasso at the end of my detention, and it's something Ms. McKenzie knew when she told me I could go to Grinnell College. We at the NCSML understand this fact, and we will work to support the educators in our community who dedicate their lives to ensuring students reach their full potential. I only hope someday students will look back and realize that they figured out what they will love in life as they walk our halls, draw in our classroom, or stand in our exhibits. It is what I will personally work toward every day in some small way.