Written by Kaitlin Schlotfelt, NCSML Family Programs Manager
I grew up in a very theatrical family. My mom and dad practically met on stage, and all of my siblings and I have been involved in theater. I remember enjoying Playtime Poppy Children's Theatre shows when I was a kid, so when I had the opportunity to play a part in bringing this education theatre group to younger students, I jumped on it!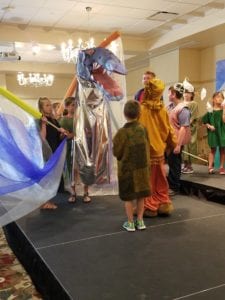 The Summer Theatre Adventure series is a weeklong camp with performances at the end that is completely free for participating students. It is an amazing chance to have our students engage with theatre, culture, and community. Our students spend the week learning how to speak in front of the public, study new cultures, and explore diversity.
This summer will be our third summer to offer the program.
Our first year we performed the original script by Calvan Hallman, The Woods of Old Bohemia, where he combined several classic Czech/Slovak folk tales. I spent the whole week working with the students and had little lessons about Czech/Slovak culture – I even tried to get them to speak a bit of the language! The play itself was pretty long, so Calvan broke it into "saplings" with shorter stories.
Last year we performed an original script from Darrin Crow, Tales beneath the Baobab Tree. Much like the previous year, this was a mixture of folk tales, but from Africa. This is when we teamed up with the African American Museum of Iowa to talk about African and African American culture and history.
I'm thrilled about this coming summer's play! To go along with our upcoming exhibit, A Century of Robots, we will be bringing the classic tale of the Golem of Prague to our stage with some modern twists. We will be joined again by Darrin Crow (writer/director), Robin Crow (set design/stage manager), the AAMI, and Playtime Poppy herself!
Auditions will be held from 1 to 3 p.m. on June 7 at the NCSML.
The performances – which are open and free to the public – will occur at 11:30 a.m. and 1 p.m. on June 27.