"Only connect! That was the whole of her sermon. Only connect the prose and the passion, and both will be exalted, and human love will be seen at its height."

— E. M. Forster from Howard's End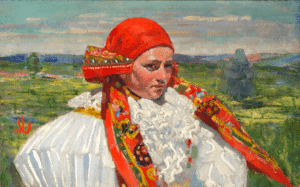 This quote comes to mind whenever I see, hear, or read offerings presented by the NCSML. The messages and lessons conveyed with passion are surely exalted when brought together, reflecting a love of people and culture. The art of Joža Uprka (look for his bio in Czech or English and images of some of his work) provides a magnificent example of the power of connecting through canvas.
In the first exhibition of the art work of Joža Uprka in the United States, the NCSML will present stunning oil paintings, posters, and mixed media on loan from the George T. Drost Collection. Joža Uprka (1861 – 1940) was a Czech painter and graphic artist whose work combined elements of Romanticism and Art Nouveau to document the folk life of Southern Moravia. The items on display from the George T. Drost Collection will showcase this important artist's work. George Drost, who lives in Arlington Heights, Ill., and was born in Brno in the Czech Republic, has been collecting Uprka artwork since the 1990s and has amassed a significant collection in the United States.