CEDAR RAPIDS, Iowa – The dramatic stories from the life of Shirley Temple Black will come to stage at the National Czech & Slovak Museum & Library (NCSML) on July 11, 7-8:30 p.m. Actor JoAnn Peterson will present the one-woman, first person portrayal From Child Star to Diplomat: Shirley Temple Black, which traces Black's life from Hollywood child star to U.S. ambassador to Czechoslovakia.
Tickets are $12 and can be purchased online. Doors open at 6:30 p.m.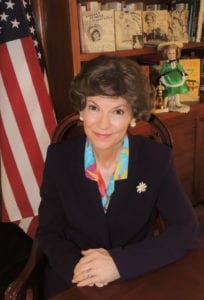 The presentation is both written and performed by Peterson, who has traveled to California and Prague to study Black and does in-depth research, using archival collections, interviews and publications, on the historical women she brings to life. Peterson also portrayed Ambassador Black in November 2017 at the U.S. Embassy's Czech Center in Prague.
Peterson has also purchased clothing from auctions at Black's estate, met with Black's children and has received personal insights into Black's life from those who knew her, including Black's public affairs officer, Tom Hull. Attendees will have the chance to see Peterson's collection of memorabilia that belonged to Black.
NCSML director of programs Teresa Stenstrup said that Peterson's presentation is a unique opportunity.
"We haven't really had something like this before. There was a one-man play a few years ago that we had that was very popular, so we're very excited to have something like this again. Shirley Temple, even now, is so well-known, and it's a good connection for us because she was the ambassador to Czechoslovakia," Stenstrup said.
Coinciding with a Wednesday night of the NCSML's ongoing Late Nights at the NCSML series, the NCSML galleries will be open until 8 p.m. with paid admission, free for museum members. A cash bar will also be available in Grand Hall.
Peterson also does portrayals of Jenny Lind, Mary Lincoln, Margaret Brown and Nellie Bly. She has acted at various theaters and in the PBS documentary "West Virginia: The Road to Statehood." More information on Peterson and "Amazing Women of History" can be found at: https://www.facebook.com/amazingwomenportrayals/