In 1989, I was 33 years old and two years into what became a long, successful career in the realm of institutional advancement in universities. I had two sons (a third was to come a few years later), and was riding high in the pleasures of fatherhood and career. I don't recall hearing a word about the Velvet Revolution, nor do I remember any of the faculty members, alumni, students, staff, or donors saying anything about it either. That is unfortunate. There could have been much to be learned and shared then. It's not too late.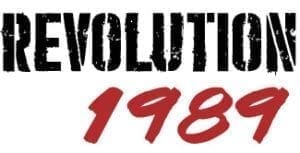 All throughout 2019, the NCSML team will be bringing offerings that reveal the history and its lessons of the 1989 revolution that defeated communism in Czechoslovakia. The role of citizens, officials, artists, students, cultural traditions, and many other influences will be revealed in exhibitions, lectures, workshops, and other activities.
Throughout the year audiences will be reminded of the innate human desire for freedom, independence, and the courage required to stand for them. The topics are as relevant and important to today as they were then.
Just because someone wasn't alive or paying attention to the events in Eastern Europe in 1989, they are living today with the ramifications of history created then. Learn about 1989 with the NCSML.
Share your stories with me! What were you doing during the time of the Velvet Revolution? Share with me about your family. I would love to hear more.  Contact me at DMcInnis@NCSML.org.