In the spirit of #GivingTuesday the NCSML is unveiling a new way to give to support the educational mission of the museum and library. NCSML Clockwork Donors can choose to give to the NCSML on a monthly basis, like volunteers George and Barb Hill. Barb and George Hill have been NCSML members since Christmas 2008, when George purchased a family membership for Barb as a holiday surprise. They have also been volunteers for several years, helping out weekly in almost every area of the museum's operations.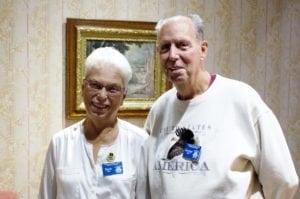 In addition to their commitment to the NCSML through membership and volunteering, George and Barb also believe it's important to regularly support the museum financially because of the connection to their heritage, and the positive community impact of the NCSML. The Hills have been making monthly donations since 2015, and they invite you to join them by supporting the NCSML with hassle-free, feel-good charitable gifts.
For an example of the major impact you can make with your monthly giving—a monthly gift of $15 for one year adds up to the cost of 60 student museum admissions! Experience the hassle-free satisfaction of knowing your monthly gift goes to a good cause. Timely giving. Timeless results. Learn more about Clockwork Donors here.