CEDAR RAPIDS, Iowa — Ubuhle Women: Beadwork and the Art of Independence, an exhibition that showcases a form of bead art developed by a community of women living and working together since 1999 in rural South Africa, opens Saturday, May 12, at the National Czech & Slovak Museum & Library.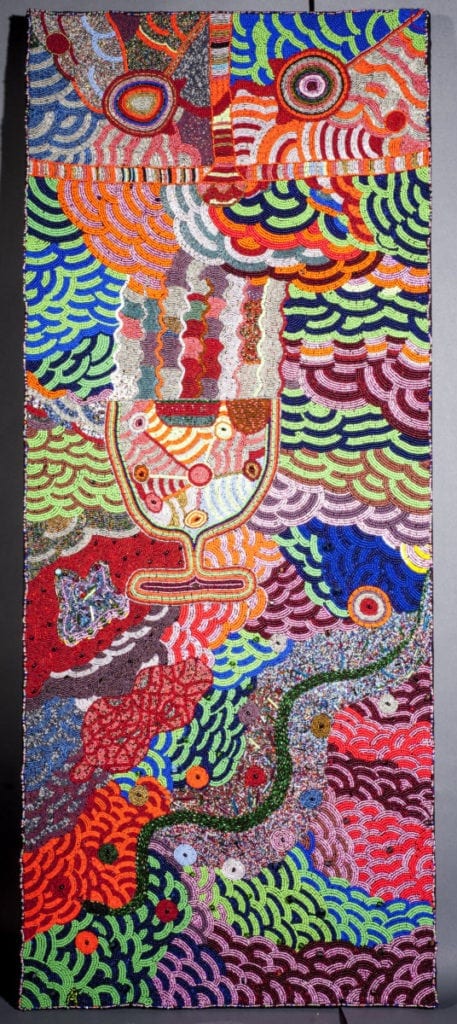 Featuring more than three dozen pieces that employ Czech glass beads, the exhibit shows the work of six Ubuhle community artists who call their "paintings in beads" ndwangos. The Ubuhle women work on a black background fabric, and by stretching this textile like a canvas, they transform the flat cloth into a contemporary art form, with textured images that shimmer in the light.
Ubuhle means "beauty" and it describes the shimmering quality of light on glass. From a distance each panel seems to be formed from a continuous surface, but as each tiny bead catches the light the meticulous skill and scale of ambition in each work becomes apparent. The Ubuhle community was established to create employment for rural women. By incorporating and teaching beadwork, the community provided women with a route to financial independence.
While highlighting the work of six Ubuhle women artists, the exhibit also memorializes the work of five others of their number who died of HIV/AIDS.


Exhibit co-curator and Ubuhle community co-founder Bev Gibson will be in Iowa and at the NCSML for opening activities.
To learn more about the exhibition and opening activities on May 12, visit https://ncsml.org/exhibits/ubuhle-women/.
The lead sponsor for the exhibit is Western Fraternal Life. Support for the NCSML Exhibition Fund comes from Joyce and John Anderson.
Ubuhle Women: Beadwork and the Art of Independence is presented by International Arts & Artists in Washington, D.C., a non-profit arts service organization dedicated to increasing cross-cultural understanding and exposure to the arts internationally through exhibitions, programs and services to artists, arts institutions and the public. More information at www.artsandartists.org.