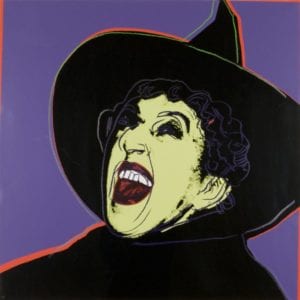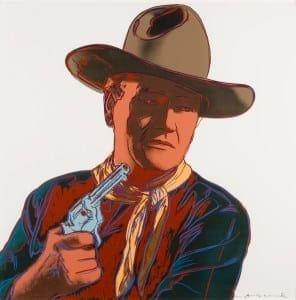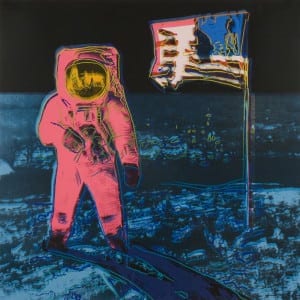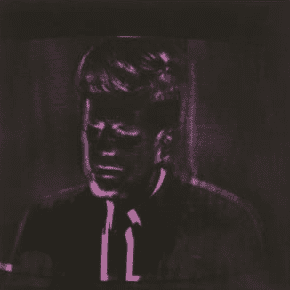 April 21, 2016
Immortal: Warhol's Last Works opens May 14 at the National Czech & Slovak Museum & Library with an emphasis on family and community programming
In just a few weeks, the exhibit Immortal: Warhol's Last Works will open on May 14 at the National Czech & Slovak Museum & Library in the Petrik Gallery. The show, on loan from private collectors Wesley and Missy Cochran, will be accompanied by an extensive list of family-friendly and community initiatives throughout the length of the exhibit, tying in closely with the museum's strategic plan to engage families and increase its embeddedness within the greater Cedar Rapids area. A highlight of the exhibit is a screen printing activity where visitors, adults and children alike, can "immortalize their experience" by creating their very own screen print to take home. The exhibit will remain open until October 2, 2016.
Andy Warhol (1928-1987), son of Carpatho-Rusyn immigrants from a remote village in far eastern Slovakia, was one of the most documented artists of the 20th century. He was a promotional genius who defined the modern model of celebrity artist. Most of the large-scale prints in the exhibition are from two series, Myths, created in 1981, and Cowboys and Indians, created in 1986, the last series made before Warhol's death in 1987. Myths includes the artist's take on such figures as the Wicked Witch of the West, Superman, and Mickey Mouse. Cowboys and Indians pays homage to the likes of John Wayne, Annie Oakley and Sitting Bull. The show also includes two pieces from Flash Suite, a series made in 1968 that documents the assassination of President John F. Kennedy in 1963.
The opening weekend will kick off with a members opening party on Friday, May 13, and a Wonderful Warhol Family Workshop on Saturday, May 14. Also on Saturday, the Museum Store will host a Trunk Show featuring Czech jewelry by Natalie D'Or Jewelry. Natalie Brandova will make a special appearance in the Museum Store during the show.
The National Czech & Slovak Museum & Library continues to increase its family programming and upon prioritizing this in 2015, saw a 30% increase in program participation. Throughout the length of Immortal: Warhol's Last Works, there will be a variety of programs open to the public, including some brand new programs designed specifically for families with younger kids, with a majority of them being either free or low cost. Director of Programs, Sara Jacobmeyer says, "Helping kids make cultural connections at an early age, and welcoming families into the museum, can really make a positive personal impact. It helps us fulfill our mission of inspiring people of all ages and backgrounds to connect with our museum and with the rich culture and history of Czechs and Slovaks." On August 6, the annual summer family free day will be an Andy Warhol Birthday Celebration! with free admission to the galleries, Pop Art inspired activities, games, edibles and live music.
Furthermore, complementing the exhibit are new Warhol Wednesdays, a once-per-month series of after-hours programs providing young professionals with an opportunity to visit the museum after work, see the galleries, perhaps enjoy a Warhol-inspired cocktail with friends and try some art activities. The opening party for Immortal: Warhol's Last Works, Warholmania! will take place on June 10. Jacobmeyer describes the event: "Warholmania! will include a DJ spinning punk rock, signature cocktails, hands-on art stations, Warhol-inspired food, and a be-your-favorite-Andy costume contest." She adds, "There's something for everyone at the museum this year."
The National Czech & Slovak Museum & Library is also organizing a community effort called "Where's Warhol? Pop Art Popping up in the Corridor." With several works by Warhol at cultural institutions throughout Cedar Rapids and Iowa City, the NCSML seeks to connect visitors to the art within the community. Throughout the length of Immortal: Warhol's Last Works, the Cedar Rapids Museum of Art, Coe College and the University of Iowa Museum of Art will also display Warhols from their collections at various times. Visitors can pick up a "Passport to Pop Art" at participating locations and upon visiting all of the stops, will be entered into a drawing to win a prize. More details come.
Additionally, Mt. Vernon's upcoming 11th annual Chalk the Walk festival will feature a 30' by 50' collaborative chalk art recreation of 16 pieces from Andy Warhol's colored Campbell soup can series. The two-day festival takes place Saturday and Sunday, May 7 and 8, 2016, from 10 a.m. to 6 p.m. and museum staff and volunteers plan to be on site providing information about the exhibit. Look for an Andy Warhol lookalike to make appearances in the crowd throughout the duration of the festival.
Immortal: Warhol's Last Works and related programming is generously sponsored by CRST International. The presenting sponsor for Family Free Day: An Andy Warhol Birthday Celebration! is Wells Fargo.
Warhol-related programming, for the month of May is below. 
This list is subject to change. Please visit NCSML.org/events for the most up to date information.
Members Only: Exhibition Opening Party for Immortal: Warhol's Last Works
Friday, May 13 from 4:00pm – 6:00pm
Cost: Free, registration required at NCSML.org
NCSML Members: Be the first to see the Immortal: Warhol's Last Works exhibit featuring original prints by the iconic 20th century artist, Andy Warhol. Feast your eyes on Warhol's pop art while snacking on some of Andy's favorite foods. Warhol was known to visit pastry shops daily and loved sugar! Please RSVP for this FREE Members Only event by Thursday, May 12, 2016. You may RSVP at NCSML.org or call Rachel Wobeter, Development & Fundraising Events Manager: 319-362-8500 x 207.
Natalie D'Or Czech Jewelry Trunk Show
Saturday, May 14 at 11:00am-3:00pm
Cost: Free
Admire dozens of beautiful designs of Czech jewelry brought to you by Natalie D'or Jewelry. Natalie will make a special appearance in the Museum Store on this date to showcase her lovely collections from the Czech Republic. More about Natalie Brandlova: Natalie grew up in a family that owns several jewelry stores and a private gallery in the Czech Republic. After arriving in the United States from Prague in 2008, she dreamt of bringing Czech-made items to America. Natalie founded her import business in 2014, presenting her business in various venues, jewelry tradeshows and to jewelry store owners. She focused on jewelry because she felt comfortable with her knowledge of the manufacturers and suppliers and because she is so proud of what she can offer to customers. Her goal is to manage the business full-time while building a solid presence of Czech-made jewelry, glass and art here in the United States, hence contributing to a bigger recognition of Czech craftsmanship and Czech quality in jewelry making in this very challenging market.
Wonderful Warhol Family Workshop: #SelfiePortraits
Saturday, May 14 at 1:00pm
Cost: Free
It's #selfie portrait time at the National Czech & Slovak Museum & Library! Andy Warhol was the master of selfies and self-portraits during his career as an artist. During this workshop, families are invited to create fabulous self-portraits in the style of Andy Warhol to take home. Instead of using photography, kids and grown-ups can experiment creating images together through guided drawing. No artistic experience is required, and all are welcome! Seating is limited. Please RSVP for this FREE workshop at NCSML.org by May 13. Children must be accompanied by an adult.
Warhol Wednesdays: Punk Rock & Pop Art
Wednesday, May 25 at 6:00pm
Cost: $8 members/$10 general public
Visit the museum after hours for fun with vodka cocktails, curious gallery activities, and a talk about punk rock and pop art by special guest C. Ondine Chavoya!
Punk Rock & Pop Art: Explore the creative intersections between Andy Warhol and Punk. Chavoya maps out conceptual correspondences in the style and technique of Warhol's art and films with Punk.  The talk will draw out connections from the Factory Superstars, the Velvet Underground, and Glam Rock to consider the emergence of Punk and considers Warhol's critical play with notions of authenticity, originality, and commercialism.
6:00pm – Galleries, including Immortal: Warhol's Last Works, open; cash bar open until 8:30pm, games available in the galleries. Must be 21+ to purchase alcoholic beverages.
7:00pm – Punk Rock & Pop Art with C. Ondine Chavoya
8:00pm – Talk ends, galleries remain open until 9:00pm.
Ondine Chavoya is a Professor of Art History at Williams College in Williamstown, Massachusetts, where he teaches courses on contemporary art and visual culture, including classes on Pop Art and Andy Warhol.  He is the author of numerous essays and articles on Chicano art, avant-garde practice, performance art, experimental cinema, and social space in southern California.  Recent curatorial projects include the exhibition Asco: Elite of the Obscure, A Retrospective, 1972-1987, the first museum retrospective to present the wide-ranging work of the performance and conceptual art group Asco that premiered at the Los Angeles County Museum of Art (LACMA) in fall 2011, and travelled to the Williams College Museum of Art, and Museo Universitario de Arte Contemporáneo (MUAC) in Mexico City.