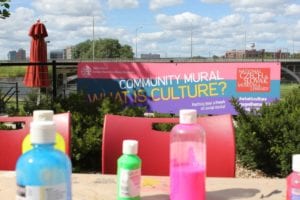 On August 6, 2016, the National Czech & Slovak Museum & Library hosted Family Free Day 2016: An Andy Warhol Birthday Celebration, an event in honor of artist Andy Warhol's 88th birthday. In addition to free admission, the day included musical performances, a Warhol-inspired fashion show, screen-printing activities and a visit from the University of Iowa Mobile Museum.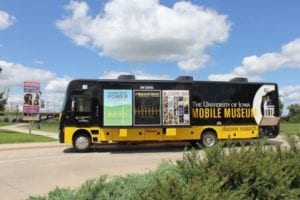 In addition, the public was invited to take part in a community mural project, asking participants to artistically answer one question: what is culture? With the assistance of graduate students from the Obermann Center for Advanced Studies at the University of Iowa, NCSML personnel facilitated the creation of the mural, made up of small tiles with individual representations of culture.
As an inclusive and creative project, many multi-generational families participated in the creation of the mural. Its proximity to the NCSML's Sleger Immigrant Home allowed participants to come straight from touring the home towards the mural area. Encouraged to post their contributions on social media, people appreciated the hybrid of a physical and digital art community. The process of creating art around a table inspired many conversations and thoughts among visitors. From talking about the comfort of home to featuring the characters of PokemonGO, the views of what culture meant to visitors varied greatly. Some participants chose to instead use the tiles to draw more abstract, colorful designs, appreciating the chance to be creative. Ultimately, the response among visitors was strong enough that the project outgrew its initial drying and placement space- which meant that NCSML staff had to dry extra tiles in their offices!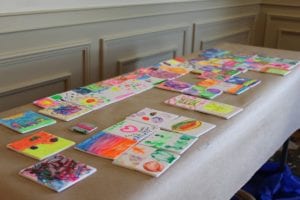 Throughout the day, Obermann and NCSML personnel documented the mural process via social media. The social media posts were used to create a digital storyboard of the day's events, while the actual mural itself will be mounted and installed near the entrance to the NCSML's Alliant Energy Classroom.  Thank you to the National Humanities Alliance Foundation for your support of this project!
See the complete digital storyboard on STORIFY.